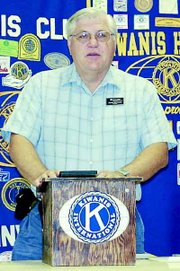 Several years ago Coach McCarthy of the Colorado Buffaloes was looking around a stadium filled with screaming fans and wondered what would happen if a stadium could be filled with men who came together to praise God.
Promise Keepers, a non-denominational men's group was born from McCarthy's inspiration, according to Dennis Browning, Sunnyside Kiwanis Club member and speaker at the breakfast meeting Thursday morning.
Today, there are Promise Keepers conventions held across the United States. Browning said he didn't start attending the meetings until later, but he said, he has attended the past five of six years.
Last year, the program focused on issues between fathers and sons. He said that although it isn't a problem he deals with personally, he learned that there are a lot of fathers and sons who are alienated from each other.
Browning played a video for the Sunnyside Kiwanians, the same video shown to the men attending a Promise Keepers conference that told the story of Dick and Rick Hoyt, who competed in the 25th Iron Man competition in 1999.
The video showed images of Dick Hoyt pulling a boat carrying his son as he swam one leg of the race. It showed him riding a bicycle with his grown son riding in a seat attached to the front of the bike, and it showed Hoyt pushing his son's wheelchair in the running portion of the race.
Hoyt tells how on Jan. 10, 1962 he and his wife knew something was wrong with their son. He was born with his umbilical cord wrapped around his neck, cutting off oxygen to the brain.
Doctors encouraged him and his wife to institutionalize the youngster at 8 months of age, because they believed the youngster would always be a vegetable. But Hoyt and his wife said, "No, we're going to take him home."
Seeing a sparkle in their son's eye, the Hoyt's knew that he wasn't a vegetable. They knew there was someone trapped inside his body.
Hoyt and his wife had a computer made to help their son communicate with them. He said that when family and friends came to hear Rick's first words, they expected "Hi, Mom" or "Hi, Dad." But the words Rick chose to share were "Go Bruins," referring to the Boston hockey team.
Team Hoyt's first race was a charity run for a paralyzed athlete, that Rick talked his father into running.
"We came in second to last," said Dick, "But when we got home, Rick wrote, 'When we run, it feels like my disability disappears'."
It was after that race that the two started competing in other races and triathlons.
Dick said it is an awesome experience to see the support when they reach the finish line.
The elder Hoyt also tells in the video that if his son was physically able, he believes Rick would probably play basketball, football or hockey. But Rick says if he was able he would run, pushing his dad in his chair.
Competing in races is not the only accomplishment Rick has made. He graduated from a regular high school, as well as Boston University.
"You can do anything you want to do if you make up your mind to do it," Dick added.