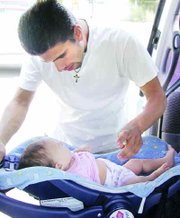 MABTON - Part-time landscaper and full-time father Vicente Mendoza, 25, has come up with an idea to help parents as they travel with small children.
On his family's trip back from visiting family in California last December, Mendoza said he tired of turning around in the car to hand his infant a bottle or toy that dropped to the car floor.
"I told my wife that someone should invent something to catch toys and bottles," said Mendoza.
Thinking about the problem he realized that a motorist either has to turn around in the car while driving or stop the vehicle to hand a toy or a bottle to a fussy infant, neither of which are the safest choices. He said that he has seen some mothers on the freeway trying to attend to their children's needs while driving, nearly causing accidents.
Returning from California, he saw an Invention Technologies commercial and called to share his idea. The firm is currently looking for a manufacturer for the product Mendoza has developed.
"This would prevent parents from having to turn around and getting into an accident," said Mendoza.
With the Safety Net, the net would catch items before they could drop to the floor.
"I think this will be good for my kids and for other kids," said Mendoza.
"It will prevent accidents and help parents," he added.
He anticipates that once the Safety Net is on the market it will be especially helpful to parents with infants.
"The smaller ones are the ones who are fussier when they drop stuff," said Mendoza. "If they fall asleep, they will find their bottle or toys nearby when they wake up."