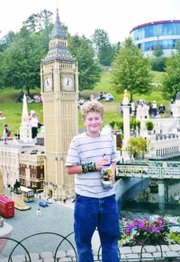 Spending 30 days abroad sounds like a long time, but it really isn't according to Maureen Allen of Sunnyside. She and her husband, Dr. John Allen, toured England last month as part of a cultural summer vacation they planned for their son, Nigel.
"Four weeks is just not enough time to see and do all we wanted to," said Mrs. Allen.
"We'd waited a long time to take him to England," she said, a native of England, herself.
While she has gone back to England at least once in the past 10 years, this summer was the first time the whole family was able to travel abroad together.
"We planned it as a cultural event for Nigel," said Dr. Allen. "We've been waiting for Nigel to be old enough to enjoy it," he explained.
And enjoy it the 11-year-old did. Topping Nigel's list of tour stops were the Tower of London, going on the London underground (subway) and visiting the Roman ruins in Chester, as well as visiting Legoland.
"They have a replica of Big Ben all done in Legos and it really works," Nigel said. He also liked the giant 747 Lego plane.
Watching the famous Jaguar automobiles being custom-built was another of his favorite stops. But it was seeing the halls of Christ Church College, where parts of the popular Harry Potter movies were filmed, that rated highest on the young boy's list of English vacation memories.
"I was able to visualize the actors walking through the halls," he said.
His mother was excited to show him around her hometown, which is home to one of the world's most prestigious seats of learning, Oxford University.
"If you don't soak up culture while in Oxford, your eyes are closed," she smiled.
Her husband's special treat, in addition to going to the theater on London's Drury Lane, was driving on the wrong side of the road.
"I had to do all the shifting with my left hand," he said.
"I was driving 70 mph on the motorways (English freeways) and the other motorists were blowing right by me," he said.
While in London, the family attended the London Company production of "Joseph and His Amazing Technicolor Coat."
The family also visited the Tower of London to see the crown jewels, before taking a tour of Nigel's favorite stop, Legoland.
"I had to pinch myself looking at all the diamonds and rubies, knowing they are all real," said Mrs. Allen. "We couldn't take pictures of the jewels in the tower, however we could take pictures of the Lego replica jewels at Legoland," she said.
The jewels there were fake, of course, but just as dramatic, she explained.
The entire city of London is recreated in Legoland.
Mrs. Allen, who was born in Banbury, grew up in Oxford. She moved to the United States in 1964. For the past 10 years the Allens have lived in Sunnyside, where they are raising their son, Nigel.
She said each summer her mother normally visits the United States. "This year, mother was able to host us and I saw a lot of my family, including aunts, uncles and cousins," she said.
Nigel's impressions of England were so favorable the young boy is now dreaming of going to college in Oxford at one of the 22 colleges which comprise the university.
"I want to be a photographer," he said, noting he'll have plenty of subjects to capture on film in his mother's homeland.