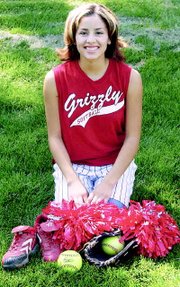 One thing Vidi Pasillas prides herself in is being able to see the bright side of people. There is one person in particular who Pasillas sees as a shining star, and that is her younger brother, Juan, who has down syndrome.
Pasillas is hoping to see the bright sides of many new people as a member of the Miss Sunnyside Court.
Pasillas, 17, who will be a senior at Sunnyside High School this fall, is one of eight young ladies looking to represent the community as the 2004-05 Miss Sunnyside. The annual pageant will be held in conjunction with Sunnyside's Sunshine Days Saturday, Sept. 18, at the Sunnyside High School auditorium.
Pasillas is a native of Sunnyside, having lived in the community her entire life. Pasillas credits the strong women in her life with helping her become the person she is today. Pasillas has particular praise for her mother, Maria Rangel, and her grandmother, Elena Zuazo.
Pasillas is being sponsored in this year's pageant by Blueline and Les Schwab Tire Center.
At high school, Pasillas stays very active. She is involved with Link Crew, which is a group of older students who help incoming freshmen make the transition to the high school. Pasillas is also involved with the leadership class and the Leaders in Action program. Her other school activities include Key Club, cheerleading and fastpitch softball.
Outside of school, Pasillas has volunteered at the Just Like Home retirement center and the local food bank. Another of her loves is working with the Special Olympics program. Pasillas became involved with Special Olympics through her brother. After high school, Pasillas wants to attend college to study to become a special education teacher.
"He (Juan) inspired me to go in that line of work," said Pasillas.
When working with Special Olympics, Pasillas said she is at her happiest because she feels she is making a difference.
"I think it is really fun," smiled Pasillas. "They (Special Olympics members) are just funny. They are very honest."
This year will mark the third season Pasillas has been involved with cheerleading.
"It (cheerleading) was kind of like a little girls' dream," said Pasillas.
Pasillas explained she's had a desire to be a cheerleader since she was a little girl. Pasillas acted on that dream when she was a sophomore.
"I tried out and I was so nervous," said Pasillas.
Another of Pasillas' loves is the sport of fastpitch softball. She has been playing softball since she was in middle school.
"When I was in middle school I was kind of the quiet kid," said Pasillas.
She said none of the other sports such as basketball or volleyball appealed to her much.
Pasillas recently found her niche at the prep level on the mound this past summer, where she developed into one of the premiere arms for the Lady Grizzlies.
But being involved with family and friends is what Pasillas treasures most. Pasillas said she looks up to her mom and brother. Pasillas said she admires her mom for being a single parent, but always finding time to still support her children.
"She is going back to school (college)," said Pasillas. "I am real proud of her."
Pasillas said her brother also taught her an important lesson about life.
"My brother has taught me not to be judgmental about people," said Pasillas.
Why run for Miss Sunnyside?
"I think it is a great opportunity for any young lady to experience," said Pasillas.
Pasillas said if she is named to the Miss Sunnyside court she wants to inspire young children. Pasillas said she would love to serve as a role model for young girls, inspiring them to compete for Miss Sunnyside when they are older.
Pasillas said she has great respect for the role the Miss Sunnyside Court serves in the community.
"They (Miss Sunnyside court members) are making the community a better place," said Pasillas.
Pasillas did admit she was a bit reluctant at first to vie for the Miss Sunnyside title.
"I wasn't sure if I would have the time to do it," said Pasillas. "But then I thought, you only live once, you might as well do it to the best of your abilities."
What Pasillas enjoys about the community is the people and the diversity.
"Everyone is really friendly," said Pasillas. "We are able to get to know each other."
Pasillas has several projects she wants to work on if appointed to the Miss Sunnyside Court. Her featured community service project will be working with the Special Olympics organization. She would also like to start a project through the Sunnyside Veterans of Foreign Wars post, sending letters from the community to troops serving abroad.
Pasillas said she would be honored to serve on the Miss Sunnyside Court.
"I would be so excited," said Pasillas. "I would be very honored because it is something I have worked so hard for."
Pasillas said being involved with the Miss Sunnyside pageant, at the very least, she is hoping to develop friendships and treasured memories.
"It is something to think about when you are 80," smiled Pasillas.