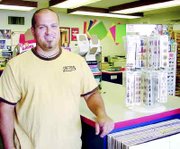 There's only 126 days until Christmas. That's 18 weeks, and Andy Bonzi and the employees at Ace Postal Center are ready.
For the past three years Bonzi has had a Christmas countdown at the postal center.
"As soon as Christmas is over we start it again," said Bonzi.
He tried to get away from the countdown this year.
"We had a few customers who were like, what are you doing? We need our countdown," said Bonzi.
Christmas is the busiest time of year for Bonzi. It makes up about 80 percent of his business, followed by Mother's Day, Easter and Valentines' Day. Last year, he said, the Christmas package mailing season went fairly smoothly.
"Last year everybody shipped pretty early," he said.
It's when customers come in four days before Christmas to ship their package that delivery begins to get questionable and expensive.
"When you get into air shipping it is expensive," he said. "We always try to remind people to save money they need to ship early."
Since Ace Postal Center opened its doors in 1997 Bonzi and his wife, Teresa, have been co-managers of the business, which provides copying services, as well as U.S. Mail, UPS and Federal Express shipping services. The store also provides faxing services and packing supplies, as well as gift items.
"We try to have as many shipping related items as we can," he said.
A back room to the Eastway Shopping Center building was added on to provide an area where the couple can build and pack boxes for customers.
Bonzi, who is originally from California, said moving to the Lower Valley has been a bit of a change, but it's a move he does not regret making.
"I love this area and I love Washington," he said.
Shortly after Bonzi's in-laws purchased the Ace Hardware store in Sunnyside he and his wife decided to open the postal center.
"They asked us if we'd give it a go," said Bonzi.
Before moving to the Lower Valley he worked making sky surfing and wake boards.
"That was fun. I got to do some sky diving," he said, adding that it was an unbelievable experience.
"I'm definitely an adventurous type," said Bonzi, who is also an avid snowboarder.
Bonzi said he enjoys working in a customer service based field, which until 1997 had been mostly in retail surf shops.
"Postal service is a bit different," he added.
Bonzi and his wife have a 14-month-old daughter and another child on the way.