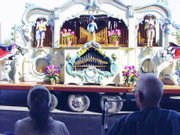 Organ music was often heard throughout the streets of European countries in the early 1900s. But two world wars brought an end to the festive times provided by the dance organ.
But that music, from a more innocent time, came to life once again this past Saturday morning in Sunnyside. Music from a delightful dance organ built by the Gaudin Brothers entertained residents at Sun Terrace Retirement Center.
Ken Termaaten of Grandview owns several such organs, which he inherited from his father. This past Saturday he brought the smallest of the organs, which measures 16 feet wide and eight to nine feet tall, to Sun Terrace to entertain the older residents.
Termaaten said his father, Case, became interested in the organs as a hobby in the 1970s while living in California.
"He would go through them 100 percent," said Termaaten.
The particular organ Termaaten brought to Sun Terrace on Saturday was restored in the 1980s and was originally built in Paris. One of the other organs in Termaaten's possession was built in Holland, with the last three being constructed in Belgium.
His father used to own eight organs before moving into a retirement home in California last summer. Three of the other organs went to family members, said Termaaten.
Termaaten said his father never took a music lesson in his life, but he could play just about any instrument.
"I just enjoy the music," said Termaaten. "My hobby is old cars."
The Gaudin organ that was displayed at Sun Terrace on Saturday is an 86-key organ, which plays books of music and runs off of compressed air. The books of music are hand fed into the back of the machine and the organ reads the different notes on the sheet.
Termaaten said during the early 1900s, the dance organs were moved around to various locations in Europe. The dance organs were very popular at bars. It was also not uncommon to find the organs being played in the street, said Termaaten. The heyday for the dance organs was between 1910 and 1925, said Termaaten.
"A lot of them were destroyed in World War I and World War II," said Termaaten.
Termaaten belongs to the International Music Box Society. He said through the organization he has learned there are not many dance organs like his that are left.