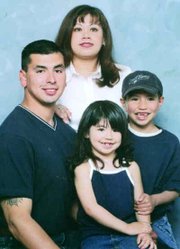 For the past month, something has been missing at the Tom Denchel Ford dealership in Prosser, and that something is business manager and Sunnyside resident Jesse Villalobos.
Villalobos was diagnosed with viral meningitis on July 24, a diagnosis that has left him unable to work. According to Villalobos' wife, Aracely, viral meningitis is an inflammation in the fluid in the brain. She said since the disease attacked last month, her husband has had no control over the right side of his body.
Mike Alvord with Tom Denchel Ford in Sunnyside noted that since being diagnosed Villalobos has spent time at KADLEC medical center in the Tri-Cities, and most recently at the University of Washington Medical Center in Seattle.
"They're still testing him," Alvord said. He added that even after Villalobos recovers from the disease he will still have to undergo a rehabilitation regimen.
In the meantime, the employees of Tom Denchel Ford are getting together to show support for their fellow co-worker. Alvord said there is currently a sign-up sheet going through both the Prosser and Sunnyside Tom Denchel Ford dealerships, that allows other employees to donate their vacation time to Villalobos.
However, that is not where the local automotive dealer is drawing the line at helping the local family. Alvord said employees are planning on hosting a fund-raising car wash Saturday, Aug. 28, at the Tom Denchel Ford site in Sunnyside. He said the car wash will begin at 11 a.m. and continue until the last car is washed, with all of the proceeds going to Villalobos and his family.
Alvord noted that Villalobos does have medical insurance, but insurance only covers so much.
"Expenses are already through the roof," Alvord said.
Aracely said her husband has been in Seattle undergoing tests for nearly a week, adding that at this point no one knows when he will be able to come back home to the Valley. She noted that their children, Jesse Jr., Elizabeth and Maddison, are currently at home with their grandmother.
Alvord said the employees of Tom Denchel Ford have set up an account for the Villalobos family at American West Bank in Sunnyside. He added that donation jars have also been put out at local businesses for the Villalobos family.