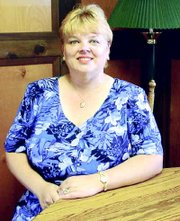 One of Carol Carrillo's oldest child's biggest fears is that she will graduate from Yakima Valley Community College at the same time he graduates from high school. With at least two years left, she doesn't think he has anything to worry about.
Carrillo is currently the secretary for DK Bain Real Estate, but she has dreams of one day becoming a nurse. After 13 years of waitressing, Carrillo returned to secretarial work with the help of People for People.
"When I started their program I didn't know how to work a computer. I was really intimidated by computers," she said.
After attending business school in Albany, N.Y., Carrillo worked as a secretary in upstate New York, where she lived prior to moving to Washington. But as technology advanced and more secretarial work involved computers, Carrillo left her secretarial career.
"I was so intimidated by the computer I gave it up," she said.
Eventually she returned to secretarial work, but Carrillo said her first days at DK Bain she began freezing up the computers.
"I accurately type 100 words a minute," she said. "The computer couldn't keep up with me."
Since she started at DK Bain five years ago, Carrillo has learned many skills on the computer. She now makes brochures and advertisements for the office, as well as updates listings on the computer and the office webpage.
"I work for more than one person in this office. I work for all the agents," she said.
Returning to her secretarial career helped her realize her life-long goal of becoming a nurse, which helped her make the decision to return to college.
"Ever since I was 15 I wanted to be a nurse," said Carrillo. "Nursing is my dream."
To obtain that dream, besides working, she is a full-time student, starting her days as early as 8 a.m. and taking classes well into the night. She has also taken Saturday classes to help finish her degree. When she is finished, Carrillo hopes to become an operating room nurse.
"I hope I am teaching my children that no matter how old you are you can obtain your goals and dreams," she said.
Although living in Washington is far from Carrillo's family, her mother lives in Missouri, Carrillo finds it home because it is where her three children and husband of three years, Pedro, are living.
"I've never met such a caring community," said Carrillo. "I think the community is the best part of living here." But, she added, "The sunsets here are breathtaking."
She said she also enjoys how the orchards and vineyards climb the foothills surrounding the Lower Valley. Occasionally, when she is homesick for upstate New York, Carrillo said she will drive to Chinook Pass to enjoy the fall colors, which remind her of home. Besides attending school, Carrillo enjoys baking, cooking and crocheting. She has crocheted an afghan with a picture of deer on it and even an afghan displaying DK Bain's name and logo.
"I don't know how to follow a pattern, but I figure it out as I go," she said.