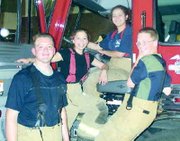 Since February Sunnyside teens have been leaning first-hand what it means to be a firefighter. They have learned CPR and first-aid training and have been on ride-alongs to emergency calls.
"They've learned how to work with some of the fire hoses and some of the different kinds of hoses we have," said Josh Roe, advisor for the Sunnyside Fire Department's cadet program.
The teens involved in the program have a variety of different career goals, but Roe said, each one of them is learning different aspects of fire and rescue, and that is helping guide them in making career choices.
"There's a lot more to it than just firefighting," said Roe. "They get some of those life skills like showing up to work and being responsible. They also get a unique opportunity to learn about the fire service before they have to make a career choice," Roe added.
Currently, there are openings for at least two cadets in the program, said Roe. A total of six cadets are eligible to participate in the cadet program.
Besides learning life-saving basics, the cadets have had the opportunity to attend a class on helicopter landing zone safety.
The role of the cadets is to provide support to firefighters and paramedics when on scene at fires and other calls, according to Roe.
"They've learned what to do to help us at fires," said Roe. "They know how to fill our air bottles so we can go back into a fire faster."
He added that the cadets have learned how to set up an emergency rehab station to provide firefighters with water and a place to cool down when on the scene of a fire. Roe said he recently received permission to provide the cadets with radios, which will notify the cadets of fire calls.
President of the cadet group at the Sunnyside Fire Department, Michelle Gonzalez, said the best part of the program is helping people.
"It's exciting," she said. "It's such an adrenaline rush."
Gonzalez, who has also been involved in the nursing program at Sunnyside High School, has aspirations of becoming an emergency flight nurse.
Gonzalez said she has been able to ride along on emergency calls, which have been exciting.
"I assisted in getting back boards and ran to pick up equipment," she said. "I also gave oxygen to one of the patients and helped calm the patient down."
She said the drills have also been fun. Gonzalez said in one of the trainings they play hide-and-seek. She explained that they put on their bunker gear, boots, oxygen masks and an eye coverage, which makes it seem like they're in a smoke-filled room.
"We crawl around in the dark and look for people," she said.
Gonzalez said the program is great because she is able to gain life experience while helping people. She added that it is a way to learn more about the fire and emergency service.
Teens, 16 years of age or older, interested in applying for the Sunnyside Fire Department Cadet program can pick up an application at the Sunnyside Fire Department or contact Roe, 837-3999.