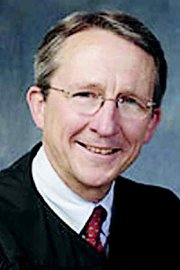 Robert H. Alsdorf is one of six candidates who have filed for position one in the race for Washington State Supreme Court.
Alsdorf, who has served 14 years as a King County Superior Court judge, is a graduate of Yale Law School and practiced law in Seattle until 1990, when he became a Superior Court justice. Alsdorf was first appointed to his position as a judge in July 1990, but was then elected to the position in September 1990 and re-elected in 1992, 1996 and 2000.
During his professional career Alsdorf has received a laundry list of awards. In 2002, he was honored as Judge of the Year by the King County Bar Association and was the recipient of the 2000 Vanguard Award, an honor presented by Washington Women Voters.
Alsdorf is also involved in a number of professional activities, ranging from serving as an elected member of the American Law Institute to serving as a member of the honorary advisory committee to the Peace Corps Master's Degree Program at Daniel J. Evans School of Public Affairs at the University of Washington.
At this point in the race, Alsdorf has been endorsed by a wide variety of organizations and individuals, including the Mainstream Republicans of Washington, King County Young Democrats, Washington State Council of Fire Fighters and the Washington State Labor Council.
Alsdorf was raised in Japan, the son of missionary parents, and later worked in Sierra Leone, West Africa as a Peace Corps volunteer. Alsdorf is married to his wife Sarah, a third grade teacher at a Seattle public school, and has two grown sons.