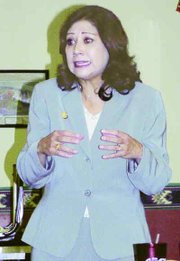 U.S. Representative Hilda Solis of California traveled north this week, spending two days touring the Yakima Valley, from Yakima to the Tri-Cities, promoting the Democratic platform and talking about presidential candidate John Kerry's plans for dealing with the rising costs of health care and education.
Solis, a congresswomen for the 32nd district of California, which includes all of Los Angeles, was the guest speaker at Thursday's Latina Women's luncheon held at El Conquistador in Sunnyside. Solis was elected to Congress in 2000, and received the John F. Kennedy Profile in Courage Award the same year. She also serves as the chair of the Hispanics Congressional Caucus Taskforce on Health.
Solis noted that she represents a diverse area that includes urban and inner city communities. She added that she also represents a wide array of people, explaining that about 70 percent of her district is Latino, with another 20 percent being Asian.
"I'm dealing with a very diverse group of people," Solis said.
She went on to note that she sees the Latino community as an ever growing group of voters who could have a big effect on the November election. She noted that Latinos are a minority, majority community. Solis explained that Latinos are the fastest growing minority in the United States.
However, despite the community's large numbers, Latinos are not as politically active as they could be, she said.
Solis said that she is looking to the younger generation of Latinos to change that. She explained that although the population of Latinos is growing, it is still a young population with a large group of people under the age of 18.
"But in the next 10 years I see them taking on some very crucial positions," Solis said.
She then talked a little bit about her personal background. Solis said her father came from Mexico 50 years ago, and her mother is originally from Nicaragua. She said the two met in Los Angeles and started their family in La Puente.
Solis said when she was in high school there weren't a lot of Latino students in her school. However, there was a Mexican American counselor who one day asked her where she was going to go to college.
"I thought he was crazy," Solis said.
She said she told him that her family was raising seven children and there was no way they would be able to afford to send her to college. Her counselor then sat her down and told her that through financial aid she would be able to go to school.
"That is why we need to support good government," Solis said, noting that it's because of federal financial aid that she was able to go to school.
Solis then pointed to President George W. Bush's No Child Left Behind act, which is aimed at ensuring that all students receive the education they need. However, she said when the President created the act he didn't provide the funding required for schools to implement the programs they need to comply with the law.
Solis said higher education is also suffering under the current administration. She said the Pell grant program and other grant programs that help students pay for college education are shrinking.
"We need a president who is going to help to put more [funds] in," Solis said of the grant programs.
Solis said Kerry has a plan to help middle class families pay for college, noting that his plan includes a $4,000 a year tax credit for parents who are sending their children on to school.
"You don't hear any of this coming from the other party," Solis said.
When it comes to health care issues, Solis noted that she serves on the task force for health. She said it's important that people have access to affordable health care. Solis said it's not simply the unemployed who don't have the funds necessary to cover the rising costs of health care. Instead, she said it's the working poor who are suffering, those people who are holding down jobs, trying to make ends meet.
Solis said also adding to the health care issues in this country is the lack of nurses. She said there is no incentive for nurses to become teachers at nursing schools, when they can make so much more money working in the emergency room at local hospitals. Solis said something needs to be done to ensure that there are enough teachers out there educating young nurses and getting them ready to fill the needs of hospitals and medical facilities across the country.
Overall, Solis told the women at Thursday's meeting that she believes in the John Kerry, John Edwards ticket.
"I believe that Kerry and Edwards believe in diversity and families," Solis said.