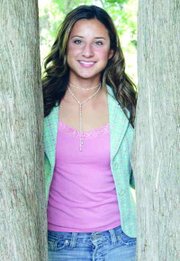 One personal attribute Miss Sunnyside Candidate Andrea Phillips is known for is how she gets along and wants to help people. But, Phillips, a 17-year-old Sunnyside High School senior, has been putting her people skills to an entirely new use lately.
Phillips is one of eight young ladies who'll be competing for the title of Miss Sunnyside on Saturday, Sept. 18, as part of the community's Sunshine Days activities.
Phillips is the daughter of Yolanda and Krys Phillips of Sunnyside. She is being sponsored in the pageant by Electric Beach and Edward Jones Investment/Brian Bliesner. She also received assistance from Fashion Corner in purchasing her dress for the pageant.
At school, she is involved with several sports, including volleyball, basketball and tennis. Outside of the sporting relm, Phillips is involved with the Honor Society, leadership class, Key Club, Fire Squad, Associated Student Body business manager and Spanish Club president.
Away from school, Phillips keeps busy in the summer lifeguarding at the Sunnyside pool and is an active member of the St. Joseph Catholic Church.
After high school, Phillips wants to attend a college and study to become a psychologist.
"I want to be there to help people," said Phillips. "I am interested in helping troubled youth."
Phillips credits her family with providing her with support in everything she sets out to do.
One of Phillips favorite sports to be involved with is basketball. She is a starter on the Sunnyside High School girls basketball team.
"I love playing basketball," said Phillips. "Basketball is also a place where I can meet new friends."
Phillips tells an interesting story about how she became involved with basketball. She has been playing the sport since was in the fourth grade, attending St. Joseph Catholic School. However, in her class at St. Joseph's, Phillips was only one of four girls. Phillips smiled, saying the other three girls weren't interested in basketball at all.
"I have always been around boys. They sort of shaped me into the athelete I am," said Phillips. "I am kind of a tomboy."
A devastating injury occurred to Phillips a couple of years ago at a summer basketball tournament that helped mold her perspective about life today. At a summer tournament in White River, Phillips tore her ACL. This injury sidelined Phillips for many months.
"That was the toughest time," said Phillips. "I am just not used to sitting around."
The injury did test Phillips, who was sidelined for four months.
"I became lazy," said Phillips.
Phillips said the ACL injury made her more leary about competing like she used to because she was afraid of being injured again.
"It held me back in my sports," said Phillips.
Phillips said she is looking to a prosperous senior year and isn't going to let the ACL injury stand in her way.
"I think it will be good," said Phillips. "You are in high school only once."
The ACL tear also forced Phillips to miss an NBC basketball tour camp abroad. But never to leave unfinished business, Phillips was able to take the two-week tour later, through the British Isle, June 25 to July 11.
"I loved it," said Phillips. "I got to meet new friends, experience new cultures. I got to find out a lot about myself."
Phillips said she decided to run for Miss Sunnyside because it is a once in a lifetime event.
"This is a really big responsibility," said Phillips.
Phillips said running for Miss Sunnyside was part of a list of "things" she has always wanted to try. She has already done one of them in being a lifeguard. One of the other professions Phillips would like to try out is being a waitress.
"Wouldn't that be a fun job," smiled Phillips. "Look at all the people you would get to meet."
One aspect of Sunnyside that Phillips enjoys is how helpful the community is. Phillips said that the community has never hestitated about helping with school functions. Phillips said she feels that the community wanting to help one another is what creates that bond.
Running for Miss Sunnyside has been an interesting experience so far, admitted Phillips.
"It has been really fun," she said. "I have gotten to know a lot of the girls."
One of the projects Phillips would like to work on if she is named to the Miss Sunnyside Court is a kindergarten literacy program at Pioneer Elementary School.
"I think helping kids at this level is important," said Phillips.
Phillips feels that some younger children struggle in the classroom because of their self-confidence.
"Kids always fall behind because they are shy," said Phillips.
Phillips said other community service projects she would want to do would be with something involving youth. Phillips said it is especially important for the Miss Sunnyside Court to serve as role models in the community because the royalty is looked up to by younger children.
"We are just kind of setting the example," said Phillips.
Phillips said she has also already obtained a lot of personal success from just being involved with the Miss Sunnyside pageant.
"This is a big step for anyone to take," said Phillips.
Phillips enthusiastically stated that she would "love" to be Miss Sunnyside, or even just be on the court.
"I would really like that position," said Phillips. "It is a big role and you need to stand by it. You are not there to represent yourself. You are there for Sunnyside, to represent the community."