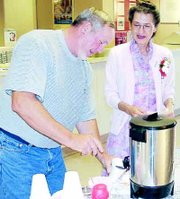 After 38 years of going to work faithfully every day, Barbara Kennedy is finally calling it quits.
The long-time Sunnyside JC Penney store employee came in to work this past Friday to work a few hours, before settling in to enjoy her last day of work by visiting with customers and serving them slices of her retirement cake.
Kennedy, known for moving quickly through department to department with racks of new merchandise, has worked with eight different store managers, in two store locations during her time at the national retailer.
Kennedy joined the JC Penney's family in March 1966 as a part-time employee. She went full-time four months later. With the exception of half a day off to attend the funeral of a family member, the woman can proudly claim she hasn't missed a day of work since 1977.
Prior to 1977, she did miss a week of work. "I got sick when the store switched from a swamp cooler to air conditioning system. That sort of wiped me out for a week. But since then I haven't missed work because I was sick," Kennedy said.
Still, going more than 25 years without a sick day is a pretty remarkable record. Kennedy, who doesn't look her 62 years, claims it was because she takes good care of herself and drinks city water.
"My husband, Chuck, was the city supervisor at the Sunnyside city water treatment plant for many years. I know the water is good," she explained.
Her husband retired from the city 12 years ago and he hasn't been sick in years, either, she said.
Kennedy, who has been the merchandise handler for most of her employment, was responsible for checking in merchandise and preparing it for display.
"I had to unpack it and check in all of the merchandise," she explained.
Kennedy said she will miss her co-workers more than unpacking the hundreds of boxes of new merchandise that arrives daily at the Sunnyside store.
"I'm glad to let someone else handle that job," she grinned.
"I'm looking forward to relaxing a little, traveling, and maybe doing a little casino hopping," she said.