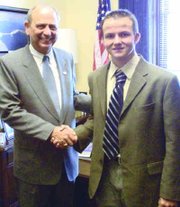 WASHINGTON D.C. - For 10 days of his summer vacation Sunnyside High School senior Sean Meininger learned about United States policy and politics at the National Student Leadership Conference in Washington D.C.
For two years in a row, Meininger was invited to attend the conference, but this summer was the first time he took part in it.
Of several areas of interest Meininger could pursue at the conference, he chose policy and politics because it was something he had an interest in learning more about, he said.
"I have an interest in law and the political field," said the 17-year-old. "I wanted to learn about the entire process."
As a part of the conference he had the opportunity to listen to numerous speakers, including Terry McAuliffe, the chairperson of the Democratic National Committee.
"Most of McAuliffe's speech was anti-president," said Meininger. Also addressing the youths was Republican Senator Chuck Hagel from Nebraska.
"He talked about the Iraq situation and his views on it," Meininger added.
McAuliffe and Hagel were just two of the daily speakers Meininger and his fellow policy and politics classmates heard during the conference. The 200 students attending the conference also heard speakers talk on politics and money, media and politics, the role of White House executive offices, and influential analysts and advisors on the hill.
During the conference Meininger was able to participate in senate and campaign simulations.
Meininger explained that the conference attendees debated on hot topics, such as capital punishment and affirmative action as part of the reenactments.
As a part of the senate simulations Meininger played the assigned role of a Democratic representative from Massachusetts. His roles included writing a bill in the judicial committee, which he sat on in the simulation, and co-writing a bill on minority rights.
In the presidential campaign simulations, he played a member of the media.
"I now have a greater understanding of the political system," said Meininger.
Besides attending sessions, Meininger, who is the son of Dr. Marc and Rochelle Meininger of Sunnyside, also had the opportunity to see the nation's capital. He visited Old Town Alexandra, Baltimore Harbor, the National Mall and the Holocaust Museum. He was able to take a night tour of Washington D.C., which included stops at the different national memorials and the newly constructed World War II monument. Also a highlight, said Meininger, was the political satire "Capitol Steps," which he was able to see performed.