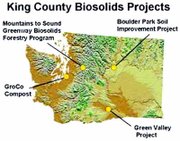 King County's wastewater treatment division was honored with a national seal of approval for its biosolids program, and among those listed as having helped the program achieve this prestigious goal was Sunnyside's Natural Selection Farms.
According to Arli Huffman with Natural Selection Farms, the local business has been working with King County through its biosolids program since 1991. Biosolids are the nutrient-rich organic byproduct of wastewater treatment that is recycled as a soil amendment in Douglas County, the Cascade foothills, King County gardens and at Natural Selection Farms in the Yakima Valley. Natural Selection Farms has been working on the Green Valley Project.
Huffman explained that Natural Selection Farms is an operation that applies biosolids and also has a composting operation. He noted that biosolids are often also used on the composting side of the business.
Huffman said since beginning the partnership with King County more than a decade ago, Natural Selection Farms has typically received 40,000 wet tons of biosolids from them every year. He explained that Natural Selection Farms then applies the biosolids to everything from hops and orchards to vineyards. Huffman explained that biosolids are tilled into the ground just like any other organic fertilizer. According to Huffman, Natural Selection Farms currently has 116,000 acres permitted for biosolid application.
Huffman explained that biosolids offer a multitude of micro nutrients, which can help improve soil conditions.
"It's very effective as far as plant growth," Huffman said.
Natural Selection Farms is one of four partners working with King County through its biosolids program. All of the partners, as well as King County were recognized with the recent award.
King County Executive Ron Sims received certification of the program's Environmental Management System last week from officials of the National Biosolids Partnership, an alliance of the U.S. Environmental Protection Agency, Water Environment Federation and the Association of Metropolitan Sewerage Agencies.
"For nearly 40 years, the staff and management of our wastewater treatment utility have been planning, building, operating and maintaining a system that has been preventing water pollution in our region," Sims said during the presentation. "A key to our success has been our innovative program for producing and recycling biosolids."
Also present for the ceremony was Michael Read of the National Biosolids Partnership and vice president of the Water Environment Federation. Read explained that it was through an independent audit that verified that King County uses good biosolids management practices, exceeds regulatory compliance obligations, creates meaningful opportunities for public participation, and runs an effective biosolids environmental management system.
"This is a big deal," Sims said. "It's an example of how King County works to preserve the water quality of the region and protect the environment. And we do so not only in our region, but also in other areas of our state in which we recycle this valuable natural resource. Our biosolids program has worked hard to maintain the public's confidence by building solid relationships with its recycling partners."