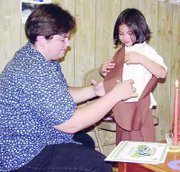 OUTLOOK - In six months the Daisy Scouts of Outlook Troop #397 completed what it takes most girls their age a year to complete.
Monday night the six Daisy Scouts bridged into a new level of the Girl Scout program. They became Brownies during the ceremony, retiring their blue smocks and donning brown sashes.
The ceremony was led by co-leaders Andrea Gatica and Chantile Hutchinson, both of whom have daughters in the program.
In the six months the program has been a part of the Outlook community, the girls earned a flag patch for learning to say the Pledge of Allegiance. They each earned the petals to their daisies as they learned each part of the Daisy Scout law, said Hutchinson. The girls also participated in the Kiwanis Kids Day Parade, held a Mommy and Me tea and a Daddy/Daughter dinner. They have completed crafts, community service projects in Outlook and had a display at the Grandview fair. The Daisy Scouts also made scrapbooks of their time as Daisies.
Two of the girls, Monelle Gatica and Claudia Pena, also participated in the Once Upon a Time Girl Scouts day camp in Yakima. The two girls earned their first two "Try-it" badges for their Brownie sashes at the day camp. Gatica and Pena also received special recognition for having perfect attendance at Daisy Scout activities.
As new Brownies, the girls will be working over the next three years to earn 72 "Try-its," said Mrs. Gatica.
"Try-its are just what they sound like," she said. "The girls will be exposed to a lot of different kinds of things. They will get to try camping, try woodworking and try cooking. They will be trying a lot of different things. They will be getting a vast amount of knowledge."