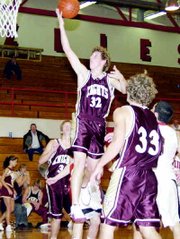 The Sunnyside Christian Knight boys basketball team opened its 2004-05 season at a five-team jamboree at Sunnyside High School Tuesday night. Although the Knights were hammered in both jamboree games, head coach Dean Wagenaar felt it was a good experience his team had against two 3A schools.
The format for the jamboree called for each team to have their A and B squads play two five-minute periods. The B squad played first, followed by the A squad.
Wagenaar didn't have any of the results from the B squads play, but felt his junior squad did rather well.
"They hung in there," said Wagenaar.
In the varsity pairings, Sunnyside Christian was outscored 37-18 by Wapato. The 3A Wolves bombarded the 'B' Knights squad, sinking seven 3-pointers.
"Wapato shot the lights out," said Wagenaar. "We are in the Christmas spirit. We got lit up."
In the last game of the jamboree, the Knights went up against the Sunnyside Grizzlies. The Grizzly varsity outscored Sunnyside Christian 25-12.
"When we play these 3A teams we don't have much room for error," said Wagenaar.
The difference in both games, felt the Knights coach, was the way his team reacted after missing a shot. Simply put, they were humbled.
Sunnyside Christian's A squad basically couldn't buy a basket against Sunnyside. However, the Knights did have a strong defensive outing against the Grizzlies until late.
"They lost their focus," Wagenaar said of his players. "We had a lot of great shots we missed. When you miss good shots you get frustrated."
Wagenaar said he would have liked to have seen his team in both games slow down the pace take some better shots.
"I was somewhat disappointed with our shooting," said Wagenaar.
Jordan Haak led the A squad against Wapato with 9 points. Chad Den Boer had 4 against the Wolfpack and teammate Andrew Schutt finished with 3 points. Derek Van de Graaf had 2 points.
In the pairing against the Grizzlies, Den Boer led the A squad with 6 points. Haak added 4 points and Schutt finished with 2 points.
Despite the losses, Wagenaar looks at the season-opening jamboree as a good experience.
"This is the best thing for us," said Wagenaar. "It was good to see them (the players) on the sideline humbled."