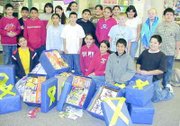 In less than a month more than 2,000 items were gathered by Sunnyside Chief Kamiakin Elementary School fifth and sixth graders for troops serving in Iraq this Christmas.
The items are being shipped off this week, but according to Marge Zylstra, organizer of the Christmas project for Chief Kamiakin Elementary School, more items, such as bags of new underwear and socks have been coming in.
Zylstra said the boxes of items will be shipped by this Sunday, which will ensure the goodies will be delivered in time for the Christmas holiday. She said the items will be shipped to Jim Bell who is serving in Iraq, who will disperse the items to the men and women.
Over the past few weeks students at Chief Kamiakin Elementary School have brought in snack foods, toilet paper, toothbrushes, handiwipes and chewing gum, which is a popular request of troops serving overseas.
"We also received six, 20-minute international phone cards," said Zylstra, who was overwhelmed by the effort the students, staff and community made to collect items for the troops.
Zylstra, who is a para-educator in Chief Kamiakin's media center, said it was touching to see students come in every morning and unload their backpacks with items to be sent to Iraq.
Items were counted as they were brought in as part of a competition that was held in conjunction with the project.
Ray Norgord's fifth grade class brought in the most items, 292 donations in all. The class was rewarded with a pizza party.
Students could also bring items in and have them count toward their individual count rather than their class count, said Zylstra. The student who brought in the most items was Kelly Bridges, who toted 462 items to school for soldiers.
"A few students brought up to 190 items each," said Zylstra. "But when Kelly came in with three Costco boxes of candy bars that pushed her over the edge."
Bridges will receive a $20 gift certificate to the upcoming book fair.
Bridges wasn't the only student who brought in items enmasse.
"Some parents went to Costco and brought in cases of Pringles and that kind of stuff," said Zylstra.
Along with the boxes of goodies, students from Gail Dodd's class wrote letters to the troops.