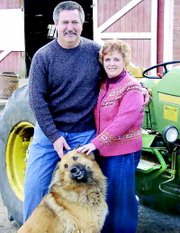 GRANGER - Charles Alexander's passion for farming makes him an ideal parade marshal candidate for Sunnyside's 16th annual Lighted Farm Implement Parade being held this coming Saturday, according to Beverly Duncan of Granger.
Duncan nominated the 52-year-old Liberty Road grape farmer for the honor, saying "Alexander's whole life has been about life on the farm."
Alexander was selected to lead this year's parade by the parade committee of the Sunnyside Chamber of Commerce. He and his wife Kathy will appear in the Dec. 4 parade when it winds through Sunnyside, beginning at 6:30 p.m.
Born in Hawaii, Alexander has lived on or near the family farm since he was a toddler. Being passionate about life on the farm comes naturally for the third generation farmer.
"You've got to love farming to keep doing it," he grins. But love it the deep-voiced man does.
"It's a hard life, but it's a good life," he said.
For Alexander, there has never been any question of doing any thing other than living on the farm started by his grandfather in 1932, said Kathy, who swears Alexander lied to her when they were dating.
"I always said I'd never marry a farmer," Mrs. Alexander said. "He said he wasn't going to be a farmer," she explained.
For the first two years of their married life the couple lived in Seattle. "But then it was back to the farm," she grinned.
"And here we stay," she said, adding she, too, is passionate about life on the family farm. "These days, I even get out and drive the tractor once and awhile," she smiled.
The couple, who married 31 years ago, say they are suited to the sometimes hectic, sometimes frustrating ups and downs of the agricultural world.
Saying farmers are dependent on good weather, plentiful water and the whims of a fickle marketplace, Alexander insists he wouldn't choose any other line of work.
"It's a life of changing jobs to suit the seasons, from tilling in the spring, irrigation in the summer and harvest in the fall, then it's fix the farm equipment and we start all over," Alexander explained.
Along with his father, Stanley, and brother Tom, Alexander, who is the manager of Alexander Farms Inc., are the stewards of 101 acres which are primarily devoted to the raising of Concord grapes.
"We have about 30 acres in open ground where we raise corn and hay," he added.
Today, "Chuck and Kathy" live in a five-bedroom farmhouse built in 1899. While Alexander is busy handling the business of running the farm, she hosts wine country tours and operates a small bed and breakfast business from the beautifully restored old farmhouse.
"People love to come out here to wander through the vineyards, relax and then tour the area's wonderful wineries," she explained.
In addition to being an avid agri-business family, the couple is active in the Yakima Valley amateur theater, she as a producer and he as an actor. He is also a member of the Granger School Board, where he has served for the past 11 years.
He is a member of the Grape Society Board of Directors and is a candidate for director of the National Grape Co-op.
Recently, Alexander Farms was awarded a 50-year membership certificate from the National Grape Co-Op.
"Having Chuck as Sunnyside's farm parade marshal is a perfect fit," said Kathy, who will accompany her husband to Saturday night's parade.
"Agriculture is truly his whole life," she smiled.