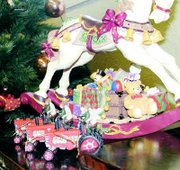 A small, red Farmall H tractor is being offered as a Lighted Farm Implement Parade souvenir this year, according to Sunnyside Chamber of Commerce officials.
The tiny tractor, symbolic of its larger farming cousins that will be appear dressed in holiday splendor in the Saturday night, Dec. 4, holiday parade, are available at the cost of $5 at the Sunnyside Chamber of Commerce office, 520 S. Seventh St.
The commemorative Christmas ornament, which depicts a father and son headed to the fields, will also be on sale before and during the 6:30 p.m. parade through downtown Sunnyside. The ornament sales booth will be set up near Centennial Square, said Kathy Corliss, the Chamber's director of tourism and promotions.
"We are also taking orders for the 2004 Sunnyside Lighted Farm Implement Parade ornament," said Corliss.
Those wishing to pre-order their tractor ornaments may call the Chamber office at 837-5939.
The ornament sale is just one of the many activities being planned for parade weekend, Corliss explained.
The Chamber also has tickets for a special pre-parade breakfast with Santa to be held at the Sunnyside Community Center at 8:30 a.m. Saturday.
"Youth of all ages are invited to the special breakfast, but tickets are required," Corliss said.
The tickets are $3 for youths, age 10 and under, and $4 for everyone else. They are available at the Chamber office. In addition to a breakfast of pancakes, scrambled eggs, sausage, juice, milk and coffee, kids can share their holiday wish lists with Old St. Nick. Children can also have their photographs taken with the man in red for a small fee, she added.
Immediately following Santa's breakfast, families are invited to visit Sunnyside's Dairy Fair, where Mrs. Santa Claus will be offering free instruction in the art of decorating treats for Mr. Claus. The cookie decorating activity begins at 10:30 a.m. Children will have an opportunity to frost and decorate cookies with Mrs. Claus and the Dairy Fair elves.
All the cookies not immediately eaten may be entered in the Chamber's "Santa's treat" contest to be held later in the day at Sunnyside's Centennial Square. The Santa's treat contest, which will include cash prizes for the top three treats, begins at 5 p.m. at the square, said Corliss.
A holiday open house will be held from 1 to 4 p.m. at the Sunnyside Historical Museum, 704 S. Fourth St. Admission is free and in addition to musical entertainment, families can see how simply the Christmas holiday was celebrated more than 100 years ago.
Other activities families can enjoy on Saturday while waiting for the main event is the Martin School of Dance's annual Christmas recital, to be held at 3 p.m. at the Sunnyside High School auditorium.
According to Linda Martin, dance school director, the recital will be over in time for the audience to view the parade, which will pass right by the high school parking lot on East Edison Avenue.
Thanks to the Sunnyside Kiwanis Club, parade-goers can stop at the Sunnyside United Methodist Church at 4 p.m. for the annual pancake feed. The club members invite parade goers to warm up before the parade and then to step outside to watch the parade from the corner of South Ninth Street and East Edison Avenue.
Prior to the parade, the Sunnyside Christian School choir will be caroling in front of Centennial Square and the public is invited to join in, said Corliss.
"We also plan to have guest storytellers on hand to recite Christmas stories of old," she added.
To help the parade lovers stay warm Saturday night, a number of groups will be selling hot cups of espresso, hot chocolate, coffee, and lattes near the Centennial bandstand. Boy Scouts Pack #635 will also be offering glow sticks to help further light up the night.
"Just remember to dress warm and bring a friend to enjoy the parade, which will include a vast array of harvest equipment, boom trucks, grape pickers, and of course, tractors of all sorts," Corliss suggested.