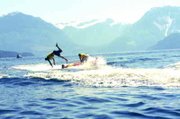 For most people, December is a time when thoughts turn to snowy weather, wool sweaters and fluffy scarves. But for those involved in Lower Valley Young Life, December has turned into a time to think about water skiing, wake boarding and hiking.
At the end of October, Lower Valley Young Life was presented with a fund-raising challenge that could bring $10,000 to the organization to help pay for summer camp for area teens.
Tom Dekker, area director of Lower Valley Young Life, explained that an unnamed donor has challenged the organization to raise $5,000, which will then be matched dollar-for-dollar by the donor. The catch is that the funds need to be raised by Dec. 31, and only funds raised by direct donation will be eligible for matching funds. Dekker noted that those who already donate to Young Life will have to give above and beyond their regular contribution in order for it to qualify for the fund-raising challenge.
So far, Dekker said the organization has sent out information on the challenge to local churches, and written about it in the group's monthly newsletter, which is distributed to nearly 200 people.
The money being raised will go toward helping young people attend Young Life camp this coming summer. Dekker noted that middle school students will attend a five-day camp at Breakaway Lodge, located north of Seaside, Ore. High school students will attend a seven-day camp at Malibu Club in British Columbia.
In recent years, Dekker said Lower Valley Young Life has routinely taken 15 to 20 students to each of the camps.
Once the students arrive at camp, Dekker said they are given a wide variety of activities to try, including everything from water skiing to mountain biking. He added that there are a lot of water sports that the kids can also try.
But overall, Dekker said what Young Life camp gives those who attend is a chance to experience God's love through people caring about them.
"It's showing them that having faith in God doesn't mean having to give up everything that is fun in life," Dekker said.
As for how the camp funds will be distributed, Dekker explained that those who need a camp scholarship have to earn it. Last year when students needed to earn scholarships, Dekker said they worked volunteering their time to do house work and yard work for elderly families in the area.
This isn't the first time an anonymous donor has tipped their hat to Lower Valley Young Life. Dekker said more than a year ago an anonymous donor challenged the local group to raise $10,000, which the donor would then match. Dekker said Young Life ended up with nearly $22,000 following that donation push. Last time, the funds were earmarked for general operations.
Those interested in helping Lower Valley Young Life reach its $5,000 goal can send their tax-deductible donation to Young Life, Attn.: Campership Matching, 580 E. Allen Rd., Sunnyside, WA 98944.