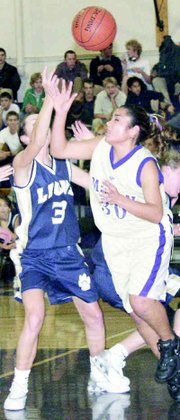 MABTON - In a non-league match-up, the Lady Vikings defeated Moses Lake Christian 47-17 Saturday night.
Scoring eight to Moses Lakes' one point in the first quarter, the Vikings play was rough, according to Coach Mike Roettger.
"The first quarter we had a little hangover from the night before," said Roettger. "In the first quarter we missed about 10 lanes."
By the end of the second quarter the team was getting into its groove and increased its lead to 18-3.
"We played really well the second and third quarter," said Roettger. "We gave them eight points in the fourth."
Using a full court press for part of the game, the Mabton girls were able to put the pressure on and keep up their intensity. The Mabton girls tallied 28 steals in the game, nine of which were made by Regina Palomarez.
Leading Mabton in rebound was Alida Mendoza, who pulled down eight for the team.
Erica Sanchez led in scoring, netting 13 points.
Michelle Tellez had 10 points in the quarter and a half she played before getting into foul trouble, said Roettger.
A. Mendoza and Diana Mendoza each had six points and Anna Montelango and Palomarez each scored 3 for Mabton. P. Mendoza, Josie Chase and Talisa Soleto each scored 2 points for Mabton.
"We had really good defense," said Roettger. "But we need to be able to score on our fastbreak lanes."
The Lady Vikings varsity team will be playing Riverview in a non-league game Tuesday, Dec. 7.