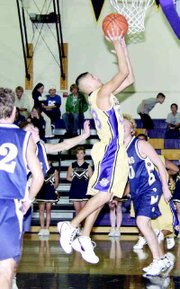 The Mabton High School boys basketball team looked simply deadly this past weekend, as the Vikings opened their 2004-05 campaign with two victories.
The Vikes traveled to White Swan on Friday night, rallying from a 12-point third quarter deficit to win 57-52. The Vikings then hosted Moses Lake Christian Academy on Saturday night, winning 73-60.
Mabton Coach Brock Ledgerwood said it was a good start for the season, as it has been quite a while since the Vikings opened the season with a pair of wins.
Andy Rodriguez had an all-around outstanding weekend for the Vikings. On Friday night, Rodriguez led Mabton in scoring with 20 points. He also had eight rebounds and four steals against the Cougars. Saturday night, Rodriguez played even bigger of a key role in helping Mabton keep its composure during a crucial early run by Moses Lake.
"He goes out there and works," said Ledgerwood of Rodriguez.
Ledgerwood added that Rodriguez brings leadership to the floor that helps balance his team.
In Friday night's game, the Vikings found themselves down 30-24 at the half. The Cougars extended that deficit to 12 points midway through the third quarter before the Vikings got back on track.
Pedro Huecias played a key role in the Mabton rally as he drained a 3-pointer in the third quarter and another one in the fourth quarter.
The Vikings did an outstanding job of creating scoring opportunities, said Ledgerwood.
The Vikings found themselves at the foul line quite a bit in the fourth quarter, going 11-of-14 from the line. Mabton was 19-for-29 for the game from the free throw line. Ledgerwood said the Vikings missed crucial free throws, seven in all, in the first half that helped account for the early deficit.
Ledgerwood said in the second half, Mabton did a better job of playing defense.
"We took away their easy shots," said Ledgerwood.
Ledgerwood said the play of Rodriguez, who was 10-for-12 from the free throw line, was very key against White Swan.
"They really couldn't stop him from going to the basket," said Ledgerwood.
An athletic Moses Lake squad took it to the Vikings early on Saturday. Mabton gave up too many easy shots early on in the game, as the Lions pounded one of their star players, Elijah Timofeyev, inside. Timofeyev scored 8 of his 18 points in the opening quarter.
Mabton then decided it had enough of what the Lions were doing and started to challenge more inside. The Vikings drew a number of over the back fouls against the much taller Moses Lake squad. The early foul trouble must have changed the game plan for the Lions, as they stopped attacking inside against a much more aggressive Mabton defense.
Mabton finished the game with 30 rebounds.
"I was really impressed with our guys," said Ledgerwood. "We blocked out very well."
When Mabton started challenging the inside against Moses Lake, the Vikings were able to create some fastbreak opportunities. It also didn't hurt that A.J. Valencia got the hot hand for Mabton. Valencia had a scoring stretch with about 2:30 left in the first half that helped switch the momentum of the game. Valencia scored 11 of his 23 points in the second quarter.
Alex Zavala exploded in the third quarter for the Vikings, dropping in 13 of his game-high 25 points.
The Vikings built a 40-29 halftime lead and put the game away with a 21-8 run in the third quarter, sparked by Zavala.
Mabton (0-0, 2-0) travels to RiverView on Tuesday night.
. Mike Kantman can be contacted at (509) 837-4500, or email him at mkantman@eaglenewspapers.com
1 2 3 4 T
Mabton 12 12 15 18 57
White Swan 15 15 14 8 52
Scoring: Mabton - Andy Rodriguez 20, Alex Zavala 14, A.J. Valencia 13, Pedro Huecias 8, Ruben Mejia 2.
White Swan - Steven James 22, Chris Jones 18.
Rebounds: Andy Rodriguez 8, A.J. Valencia 6, Alex Zavala 5, Ruben Mejia 5.
Steals: Andy Rodriguez 4, Alex Zavala 4, Ruben Mejia 3.
1 2 3 4 T
Moses Lake 17 12 8 23 60
Mabton 18 22 21 12 73
Scoring: Mabton - Alex Zavala 25, A.J. Valencia 23, Andy Rodriguez 9, Pedro Huecias 5, Pablo Sanchez 5, Ryan Harris 2, Claro Calzada 2, Ruben Mejia 2.
Moses Lake - Elijah Timofeyev 18, Billy Porter 13.
Rebounds: Ruben Mejia 5.
Steals: Alex Zavala 3.