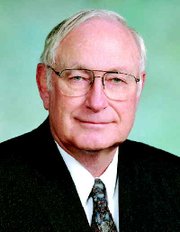 OLYMPIA - Sen. Jim Honeyford of Sunnyside has been re-elected Republican Caucus Chair.
He was appointed caucus chair this past May, when Sen. Pat Hale (R-Kennewick) resigned to fill a post in the Bush Administration. A farmer and former teacher for the Sunnyside School District, Honeyford previously served as chair of the Senate Commerce and Trade Committee.
"Senate Republicans will continue to pursue a philosophical majority in the state Senate, despite the fact that we lost a few seats in the last election," said Honeyford.
"With Democrats in control of both the House and the Senate and a Republican in the governor's mansion, we're all going to have to work together if we truly want to solve the problems facing our state," Honeyford added.
In addition to Honeyford being renamed GOP caucus chair, Sen. Bill Finkbeiner (R-Kirkland) was re-elected Senate Republican Leader. Sen. Mike Hewitt (R-Walla Walla) was re-elected Republican Whip. Other newly elected Senate Republican leaders include Sen. Linda Evans (R-Wenatchee) as Deputy Republican Leader, Sen. Dale Brandland (R-Bellingham) as Republican Caucus Vice Chair, Sen. Cheryl Pflug (R-Hobart) as Deputy Republican Floor Leader and Sen. Joyce Mulliken (R-Moses Lake) as Deputy Republican Whip.