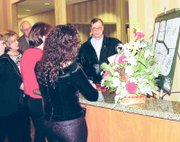 Oohhs and ahhs" over its elegant amenities were heard throughout the new Best Western GrapeVine Inn located on Quail Lane in Sunnyside last night.
The motel, which opened just four weeks ago, was host to the December Sunnyside Chamber of Commerce business after-hours social. The event gave the public and Chamber members an opportunity for personal tours of the two-level lodging center. The Chamber and city officials were also on hand for a brief ribbon cutting ceremony before being welcomed to the GrapeVine Inn by general manager Tom Denlea.
"We welcome you to our GrapeVine Inn. We hope to be of service for all of your lodging and meeting needs," Denlea said.
Denlea, who is a general partner in the Sunnyside Lodging Group, L.P., the motel owners, along with motel site manager Dick Marchel, gave the nearly 50 people who attended the open house tours of the Inn's conference rooms, fitness center, pool and luxurious guest rooms.
Also on hand for the occasion was Gary Christiansen of Grandview, who was instrumental in the development of the Exit 69 Professional Plaza area where the Inn is located.
He told Chamber members that more development will soon be underway in the area. "We have a couple of firm prospects in the wings," he said.
Christiansen added that work is also being done to woo a family restaurant chain to the area.
Christiansen said he also hopes to see a winery locate near the landmark barn located just to the east of the Best Western. He gave no indication when work on either project might be forthcoming.