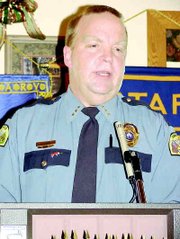 Locally, crime is down, but more work needs to continue in order to keep youth busy during the danger hours after school.
That was the message Sunnyside Police Chief Ed Radder brought to the Sunnyside Noon Rotary Club at its Monday meeting.
"We know that most juvenile crime occurs between the hours of 2:30 and 8:30 p.m., when latchkey kids are largely under supervised," he explained.
As a spokesman for the Sunnyside's Promise organization, Radder urged the Rotarians to get behind activities which keep kids busy and safe during those hours.
Sunnyside's Promise has five simple principles, he said. "We try to keep these five promises - be caring adults, provide safe places, give kids a healthy start, offer them marketable skills and opportunities to serve," Radder explained.
Toward that end, Radder said Sunnyside's Promise is launching a Class of 2012 project to mentor the current class of fifth graders to graduation.
"We know that only a small portion of the children who start school will reach graduation. Their problems begin at the fifth grade level, leading the potential for academic failure," he explained.
"We intend to work as mentors to the fifth graders with the hope that our efforts will keep them on track for graduation," Radder explained.
"Some of the mentoring will hopefully rub off on to their siblings, helping them to also be successful," he said.
Radder encouraged the Rotarians to volunteer in the schools, with scouting and other youth groups to show children that they are valued.
"Children who know people care, tend to grow into healthy, productive adults," he said.