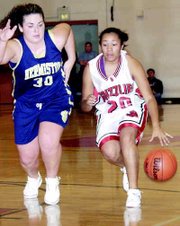 The Sunnyside Grizzlies got off to a good start last night (Tuesday), finishing the first half of the game with a one-point lead over the 4A Hermiston team.
However, the Oregon team proved to be too tough for Sunnyside in the end. The Lady Grizzlies were defeated by a score of 54-45.
"Right off the bat we looked great," Sunnyside Coach Leo Gomez said of his team. He noted that at one point the Lady Grizzlies were nine points ahead of Hermiston. "Then we just made a few mistakes," Gomez said.
He noted that the Hermiston team was able to capitalize on Sunnyside's mistakes and in the second half of the game they ran away with it. However, Gomez noted that Hermiston didn't really pull away until the fourth quarter, when they outscored Sunnyside 20-12.
"I think mentally we didn't do the things we did at the beginning," Gomez said of the second half.
Helping the Lady Grizzlies keep up with Hermiston were sophomore Kerri Urrutia, who had 16 points and four rebounds. Also contributing were Andrea Phillips with 12 points and three rebounds, Bobi Haringa with 4 points and four rebounds, Daniela Rivera with 2 points, Erica Mendez with 10 points and eight rebounds, Talia Spini with 1 point and four rebounds, Victoria Sarmiento with two rebounds, and Vanessa Alvarez with two rebounds.
Despite losing to Hermiston, Gomez said he was happy with the performance his team gave.
"I thought everything went really well," he said.
He added that he believes playing teams from larger schools like Hermiston is good for the Lady Grizzlies.
"I always want to play bigger schools, because it is the only way you can get better," Gomez said.
He said he thinks it's important that his team, regardless of whether they win or lose, has the opportunity to see how larger schools play the game.
Gomez said he feels that playing larger schools will help get the Lady Grizzlies ready for the tough competition that exists in the Mid-Valley League.
"We have a tough league," he said. "Anyone can beat you at any given time. It's not going to be easy this year."
The Lady Grizzlies (0-0 1-1) will go into their first league match-up this weekend. They are set to play West Valley Saturday, but first they will take on the Grandview Greyhounds Friday night.
Sunnyside 14 14 5 12 -45
Hermiston 14 13 7 20 -54
Rbd. - S'side 27 ( Mendez 8, Haringa 4, Spini 4, Phillips 3, Sarmiento 2, Urrutia 4, Alvarez 2). Assists - S'side 7 (Phillips 3, Mendez 2, Urrutia 2).
Sunnyside-Urrutia 16, Phillips 12, Mendez 10, Haringa 4, Rivera 2, Spini 1, Sarmiento 0, Alvarez 0, Pangle 0, Garza 0, Caballero 0.