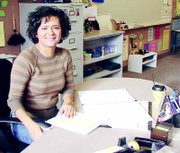 When Grandview High School graduate Rosa Benitez first stepped foot on the campus at Central Washington University, she didn't have a clear idea of what she wanted to major in and somehow ended up studying education.
Now, six years later, Benitez, the English as a Second Language (ESL) teacher at McClure Elementary School in Grandview, can't picture herself doing anything else.
"I wasn't sure what I wanted to do, but I just fell in love with [teaching]," Benitez said.
However, she didn't instantly take to teaching. Benitez said it wasn't until she taught her first classroom full of first graders that she knew she was doing something she loved.
"They're so small and they want you to teach them everything," Benitez said.
Benitez, who taught first grade after teaching fourth grade for three years, noted that the younger students were all eager to learn.
"Their minds are all yours," she said. "They'll remember what you say forever."
Although Benitez found she really enjoyed teaching the younger students, this year when the ESL position came open she felt it was something she wanted to try.
"I want to help the [ESL] students pass the WASL," Benitez said. She noted that at this point many of the school's ESL students don't have the language skills necessary to pass the required test.
Benitez said getting students prepared to take tests like the WASL is one of the most challenging aspects of her job. She added that since she works with students in grades two through five, she is constantly trying to help prepare them for everything from the Iowa Test of Basic Skills to the WASL.
For Benitez, who grew up working in the fields, education was something she knew would end up being an important part of her life. She said she started thinking about going to college when she was in eighth grade.
"Then I knew that I wanted to go to college," Benitez said.
Once she made the decision that she was going to go to college, Benitez didn't waste any time. She started taking Running Start classes at Yakima Valley Community College while she was still in high school. By the time she graduated in 1995, she had 64 college credits under her belt.
Ultimately, Benitez took three years to get her undergraduate degree from Central Washington University and came back to Grandview to take her first teaching job at McClure school in 1998.
And Benitez didn't end her education there. She went back to school and now has her Master's degree from Heritage College.
Benitez uses what she has learned to teach people of all ages, working with elementary students during the day and their parents in the evenings. Benitez, who also serves as the parent educator for the 21st Century program, teaches a group of 10 to 15 parents ESL and GED courses every Monday night.
"The classes are free," Benitez said. She noted that she has found that the parents really want to learn. "They enjoy it," she added.
For Benitez, teaching parents after school isn't where she sees herself stopping. She noted that someday she would like to be a college professor.
Benitez noted that teaching at the college level would give her experience teaching people of all ages, something she is interested in doing.
"I want to experience different age levels and learn how people think," she said.