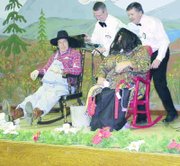 GRANDVIEW - Dressed in distinguished black bow ties and white dress shirts the Grandview Rotarians served dinner to more than 100 of the community's elderly citizens.
"It just a way to show our appreciation for their work to make this community what it is today," said Mike Bren, who organized the 48th annual dinner held Wednesday evening.
Long tables, covered with white linen tablecloths and decorated with holiday greenery and candy canes, greeted the diners to the Blessed Sacrament Catholic Church parish hall, where the traditional Grandview Rotary Club senior citizens banquet has been held for the past several years.
"We used to serve the dinner at Arthur H. Smith Elementary School cafeteria. The lunchroom ladies prepared the meal, following the same menu we have used for years," said Bren.
When Grandview School District remodeling projects eliminated the school's kitchen, the Rotarians chose the Catholic church parish hall for its annual event.
Wednesday night's dinner was catered by Countryside Catering, Bren said. "They have helped us out for the past several years, following the same menu we have used for years."
Again this year, the menu included the traditional Christmas Jell-O salad, rolls, roast turkey and dressing, whipped potatoes and giblet gravy, plus Christmas carrot cake for dessert, he explained.
The dinner has been the highlight of the Rotary Club's service year for 48 years, said former Rotarian Jack Black, who remembers being involved in the festivities in the 1960s and 1970s.
The club raises money all year for the project, he recalled.
Black, a past Grandview Rotarian president, said the dinner was the brain child of long-time Grandview businessmen Royal Womach, Tennis Johnson and Curt Stemson. "In those days, we had 50 members," Black said. "We've always had a really good turnout for the dinner," he added.
However, there have been times when the weather was pretty bad.
"It was hard for some of the seniors to get here," he explained.
So, as part of the service, the Grandview Rotarians offered to provided transportation to those who couldn't get out at night.
Giving rides to the elderly attending the banquet is a service the Rotarians have continued to this day, said Bren, who has helped with the organizing of the event for the past 22 years.
"We've fed up to 200 people at the yearly dinners in years past," Bren said
In addition to the dinner and several hours of socializing, the Rotarians' guests are treated to skits and musical entertainment.
Last night, Wendell Weld provided old-time bluegrass tunes for the group. Drs. Tim Grow and Dennis Byam performed a skit to the song My bucket's got a hole in it. But the guests' favorite part of the evening came when the Rotary members led the group in a Christmas carol sing-a-long.
Black, who now joins the festivities as a guest, said, "I always look forward to being here."