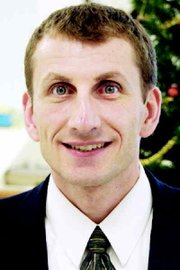 Impressive might be the word some first think of after meeting Rado Harrington.
Harrington began his first day as the new executive director of the Sunnyside Economic Development Association (SEDA), formally known as Sunnyside Inc., on Wednesday. Harrington, 32, replaces Marshall Doak, who resigned earlier this year.
Harrington currently lives in Richland with his wife, Jennifer, and their three children. Harrington's oldest child, Sarah, is 7. He also has a 4-year-old son, Joshua, and a 2-year-old daughter, Hannah. Harrington said his family plans to move to Sunnyside next summer after his oldest daughter finishes second grade.
For the past 3-1/2 years Harrington has operated his own consultation business, where he has worked with numerous businesses in providing services such as trainings and long-range planning.
"I have a wide array of clientele," said Harrington.
Harrington also has experience in the newspaper industry, having worked in the advertising department of the Tri-City Herald. Harrington was also circulation manager for the Anchorage Daily News in Alaska.
Harrington holds numerous degrees. He obtained a Master's of Business Administration degree from City University in 2002. He also holds a social science degree from Washington State University with a focus on management/pre-law. In 1999, Harrington earned a general degree from Columbia Basin Community College in the Tri-Cities with an emphasis on business and communication.
Through his corporation, Harrington has worked with the Prosser Economic Development Association and Benton County. Harrington also worked this past summer on several campaigns for Tri-Cities area politicians. Harrington said he is hoping to use his connections with such politicians as Congressman Doc Hastings to assist the Sunnyside area in his new job.
Harrington said he was encouraged by numerous colleagues and friends to apply for the SEDA position, including people in the Richland Riverside Rotary Club, of which he is a member. Harrington said during the interview process for this job, he did a lot of research on the Sunnyside area.
"I believe we are poised (here) for tremendous growth," said Harrington.
Harrington already has a game plan for his new position, which includes working on business development for established businesses in Sunnyside. Harrington said between 60 and 80 percent of new job creation is from existing businesses. One of his other plans includes business recruitment. Harrington said within three to six months he would like to hold a business summit, inviting people and businesses to come and talk about what kind of economic growth is needed in the Sunnyside area.
Harrington also wants to further enhance partnerships with such entities as the City of Sunnyside, Port of Sunnyside, Sunnyside Chamber of Commerce and Yakima County to help encourage opportunities. Harrington said the area can only benefit from partnerships.
"We need to put our best foot forward," said Harrington.
Harrington said economic development, especially in rural areas, always brings challenges. Harrington explained he isn't interested in concentrating on the challenges per say, but rather the solutions to the problems.
Harrington has been very impressed with the people he has met in Sunnyside.
"They want the very best for the community," said Harrington.
Some of the strong attributes Harrington feels he brings to the job is that he is willing to learn and the sense of loyalty he brings with him.
"I have a strong commitment to the people I serve," said Harrington. "I believe the best in people."
Harrington said his family is very excited about the new opportunity in Sunnyside and he is looking forward to his future with SEDA. Harrington said he wants the community to know he will always be working for the betterment of Sunnyside.
"People want somebody who is going to be real," said Harrington. "They don't need anybody who is going to be stagnant. I hope to be an instrument of change."