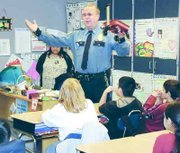 With the delivery of little red wagons to each of their classrooms, 414 Chief Kamiakin Elementary School fifth graders received a solemn promise.
Sunnyside's Promise and its volunteers promise to be personal mentors for all of the Sunnyside public school fifth graders.
"We have five promises we are making to you," said Sunnyside Police Chief Ed Radder, who chairs the Sunnyside's Promise group, an alliance for youth.
"We are caring adults, who are going to help you complete your education," he said.
Having the children recite each of the promises with him, Radder told the students that fifth grade is where most children begin to falter on their way to completing their education.
So in an effort to remedy the high dropout rate and alarming trends towards tobacco, alcohol and drug use, Sunnyside's Promise has launched a project to provide special age appropriate prevention and educational services to the future class of 2012, he explained.
In recent years, as many as half of the young people in Sunnyside who started kindergarten dropped out before reaching graduation, said Lisa Fairbairn, the spokesperson for the Sunnyside's Promise project. Based on surveys and research, the coalition has determined that fifth grade is the opportune time to implement positive youth development strategies, Fairbairn explained.
"We will be working intensively with the 16 fifth grade classrooms at Chief Kamiakin to deliver the five promises," she added.
The five promises are to provide youth with caring adults, safe places, a healthy start, marketable skills and opportunities to serve, she said.
The Sunnyside's Promise leadership, at Radder's urging, has already recruited 12 community volunteers to act as mentors for pre-teens, Fairbairn said.
"But we can use more mentors," she added.
She said the first 12 recruits will work as reading mentors, but an ongoing recruitment plan is in place.
"We encourage all Sunnyside adults who want to help make a difference in these young people's lives to get involved in this program," she added.
People interested in learning more about the class of 2012 adoption project are encouraged to call Fairbairn at 836-8417.