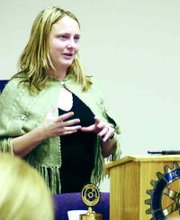 Breaking into the wine industry is something that can end up being the result of cracking open a book, or at least it was for Kelly Hightower, winemaker and owner of Hightower Cellars on Red Mountain in Benton City.
Hightower took time Wednesday morning to talk to members of the Sunnyside Daybreak Rotary Club about her entrance into the wine industry, as well as she and her husband's Red Mountain winery.
Hightower said she first became aware of wine while she was living in California, near Napa, Sonoma and San Francisco. It while she lived there that she bought a book about wine making.
"It wasn't just a coffee table book," Hightower said, noting that instead it looked at the actual process of wine making.
After reading the book, Hightower was inspired to learn about wine making and decided to take a few classes on the subject at Santa Rosa Community College.
"That's when I knew it was what I wanted to do," Hightower said.
As for how she came to live in Benton City, Hightower explained that she's originally from Washington and had tasted some great wines from the area, so she decided it was time to move back. Within a month of moving back to Washington, Hightower found herself working at Columbia Winery in Woodinville. While working at Columbia Winery Hightower took on a variety of responsibilities and met her husband, Tim. Her husband was an attorney who got hired as the in-house counsel for the winery.
Since the two worked together and lived in the same area, they found themselves carpooling to work every day. It was during the three-hour drives from Seattle to Woodinville that the two fell in love and started to develop a business plan to open their own winery.
Hightower said one of the first things they did was to make a list of all of their favorites wines, then they went to work finding out where the winery sourced grapes for the vintages.
"We were very persistent," Hightower said.
And it's that persistence that made it possible for the couple to start their winery in 1997, which was right after a freeze year when winemakers throughout the state were searching for grapes.
"We just kept showing up, saying, 'Hi, we're here and we'd like to buy some grapes,'" Hightower said in detailing how the couple found grapes to crush that first year.
Hightower noted that the first year the couple made wine they borrowed money from family members and focused on buying grapes and barrels. They bottled 220 cases of cabernet sauvignon that year.
Hightower explained that they had decided to focus their attention on making red wines.
"We wanted to do just a few things and do them well," she said.
Another part of their business plan was to try to make their way onto the wine lists of some of the best restaurants in Seattle. Hightower noted that they had a list of the top 10 restaurants in Seattle and worked hard to make their wine known.
Hightower explained that one challenge small wineries face when it comes to making a restaurant's wine list is that they are so small that often times halfway through the year they run out of wine with which to supply the restaurant. Hightower said they got around that by making a commitment to the restaurants to keep bottles on reserve for them so they could continue to offer the restaurant their wine throughout the year.
"We developed a good relationship with the restaurants," Hightower said. "From the beginning our wines were very well received."
The most recent venture the couple has taken on came in 2002, when they purchased a 15-acre plot of land on Red Mountain, which included a house and a barn they have since turned into a tasting room. Hightower said this year she and her husband planted grapes on their property, which she hopes to be able to get a partial crop from in 2006.