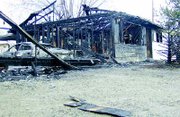 No one was at home when a fire broke out in a Sunnyside home at 329 NW Crescent Ave. early this morning (Friday).
Sunnyside firefighters responded to a report of a house on fire at about 4 a.m. When they arrived they found the house fully involved, according to Deputy Chief Lloyd Hazzard.
The cause of the fire and where it started is still under investigation. Also being investigated is who the occupants of the house were.
According to the Yakima County Assessor's office, the early 1970s home belongs to Adolfo and Candy Cisneros, but there is no information on if the couple was living in the home or renting it out.
Hazzard said there were very few rooms in the home not touched by fire. He believes that two of the bedrooms may not have damaged by fire, but are water and smoke damaged.
The fire department is considering the house a total loss.
Hazzard said the loss of the house is estimated at $150,000.
"There was a Lexus in the garage," he added, estimating that the total loss of property could escalate close to $200,000.
The 12 firefighters who battled the blaze returned to the fire station at about 7 a.m.
Hazzard said that investigators from the fire department and Sunnyside Police Department were to be at the home later today to begin the investigation into the cause of the fire.