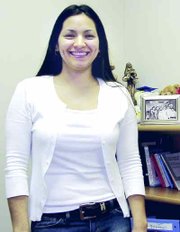 Sunnyside High School graduation specialist Lucia Ramos is drawing on her own experience to aid the 499 SHS students classified as migrant students.
The students, who often attend upwards of four or five schools a year, are often in danger of losing credits needed to complete their high school education, said Ramos, a 1998 SHS graduate.
A former migrant student, Ramos was the first one in a family of 12 children to go on to college. Her education journey included earning a Bachelor's in social work at Eastern Washington University and a Master's in social work from UCLA.
But it was not an easy journey, she admits.
Even with encouragement from counselors, it wasn't always an easy task keeping track of credits earned at each school she attended.
"It's not always a matter of making a phone call to a former school. Sometimes credits don't seem to transfer, " she explained.
In her new position as a graduation specialist for the Sunnyside School District's high school migrant students, Ramos sees herself as an advocate for their education needs.
"It's not easy being the new kids in a school. It's hard sometimes for the students to know where to turn for help," she said.
Not knowing where to turn can lead to losing credits needed for graduation, she said.
"My job is to make sure that students get even their partial credits for time spent on studies," Ramos explained.
Ramos, who took over the position in November, replaces Artemio Madrigal, who implemented the graduation specialist program last school year.
Ramos will work closely with the high school counselors, as well as the additional educational programs available to the migrant students. Ramos will aid students in connecting with such programs as the Portable Study Sequence (PASS) program and the secondary education for migrant youth (SEMY) program, which allows the migrant students to take credits from one school to the next.
"The credits transfer across state lines in most cases," said Ramos.
One exception is the requirement that all students graduating from Washington schools have a half credit in Pacific Northwest History requires special arrangements. That is where Ramos is able to step in and help guide students in the right direction.
Ramos explained she is able to link the students with teachers or with the PASS program. "The PASS program allows students to take course work with them as they travel.
"So, even if they are not attending a Washington school, they can still complete the required courses to earn the necessary graduation requirements when they return," she explained.
Ramos said she also sees part of her job as being a mentor.
"I will work to reassure students that they can complete the course work. I see part of my job as motivating them to finish," she said.
Ramos is also a role model for the migrant students who may not be able to imagine higher education as a part of their future.
"I want them to know they can graduate from high school, and that they can also get a college education. I want to them to think if she can get a college education, I can do it too.
"It's not impossible," said the 1998 SHS alumnus.