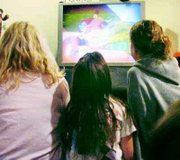 High-definition television has arrived in Sunnyside. Charter Communications just recently launched its Charter HDTV service, which gives local customers the opportunity to take advantage of such high-definition cable channels as HD Discovery Theater and ESPN HD.
Dave Myhre with Charter Communications explained that high-definition television offers customers a chance to see a picture that is as clear as if they were to look out their own window.
"It's crystal clear," Myhre said. "It's a sharp, clean picture."
Myhre explained that the reason the images on the television screen appear so clear is because high-definition programming is delivered with five times as many lines of resolution than your average television signal. He added that high-definition also means a higher quality of sound, noting that HD programming comes in Dolby digital 5.1 sound.
At this point Charter Communications is offering customers an HD tier that bundles all of the high-definition channels together, including HD Discovery Theater, HD Net, HD Net Movies and ESPN HD. Customers who currently subscribe to HBO or Showtime will also have access to HBO HD and Showtime HD at no additional cost.
In order to receive the high-definition channels, Myhre explained that customers who have digital cable through Charter Communications and a high-definition television set will simply need to call and order the service, which is $9.99 a month.
Those customers who do not currently have digital cable, but do have a high-definition television, can also order the service. Myhre explained that in that case the customer would have to pay $6.95 a month to rent the box needed to receive the stations and another $6.99 a month for the stations themselves.