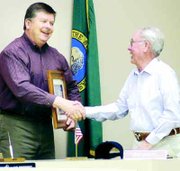 GRANDVIEW - Since 1995 a lot of development has come to the sleepy city of Grandview. Port property has been developed, the city has started participating in the Northwest Food Processors Convention and the Wal-Mart distribution center has come to town. Last Friday afternoon, one of the men behind all of these developments decided it was time to throw in his hat. Grandview Port Commissioner Jim White asked to resign from his post after nearly 10 years with the organization.
White is resigning his post to move to Springdale, Ark., which is about nine miles from where he went to college at the University of Arkansas, and is where his wife Lois grew up.
White, who was honored with a reception during his final Port of Grandview meeting last Friday afternoon, told those in attendance that although he grew up in Arkansas, Grandview has become his home.
"This is the place I'd rather live in the world," White said of Grandview. The couple is moving to be closer to their family, including a daughter who lives in the Springdale area.
"I'm going to miss him a lot," said fellow Port Commissioner Dr. Ron Grow of White. "He has given yo-man's service to this community over the years."
Sunnyside Port Commissioner St. Clair Woodworth noted that White has been instrumental in bringing together the communities of Sunnyside and Grandview. He said that instead of competing, the two communities have begun to work together to bring economic development to the Valley.
"It's always sad to see a good person leave an agency that has done a lot of good for the Yakima Valley," said Sunnyside Port Commissioner Arnold Martin. "We certainly appreciate, Jim, the work you have done here in the Yakima Valley."
White, who first arrived in the Yakima Valley in the 1950s to work for Welch, decided in 1995 to run for an open position on the Port.
"I wanted to give back to the community whatever I could," White said of why he decided to run. He added that he had also retired at the time, finishing work for Smuckers in Grandview.
During his years with the Port, White said he has been happy to be a part of the development of land in the Grandview area, as well as in the Port's participation in the annual Northwest Food Processors Convention. He noted that Grandview has an excellent location and the facilities that food processors need.
White, who has always been active in the community, having served as a member of the local Rotary Club for more than 35 years, said he has really enjoyed his time with the Port. He noted that he liked having the opportunity to meet people, as well as the chance to bring the Valley together through economic development.
"We're one community," White said of Grandview and Sunnyside. "We really tried to bring [us] together."
Although White is retiring from the Port and moving east, he is sure that once he settles into life in Arkansas he will take on some new projects.
He noted that his daughter, who works as a school teacher in Arkansas and is active in real estate, should see to it that he is busy.
"I'm sure she'll find projects for me," White said with a smile.