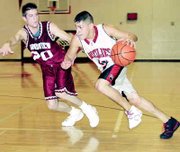 West Valley's vaunted flex offense caused Sunnyside problems this past Saturday night, allowing the Rams to escape the Grizzly den with a Mid-Valley League opening 64-56 victory.
The night before, the Sunnyside High School boys basketball team was also beaten on its home floor. Grandview claimed a 72-56 non-league win over the Grizzlies.
The two weekend losses dropped the Sunnyside boys hoop team to 1-3 on the season. The Grizzlies have a pair of non-league road games on their schedule this week-Tuesday at Kiona-Benton and Saturday at Connell.
"No question, we need to get back on the winning track," said second year Sunnyside Coach Steve Urrutia. "Hopefully, these two non-league games this week will allow us to do that."
Urrutia said his Grizzlies will be focusing on opening each game with a bang.
"We have to be more mentally prepared from the outset," he said.
That definitely wasn't the case this past weekend. West Valley jumped out to an 18-10 first quarter lead, extending its advantage to 34-18 at the half. Grandview also took control early, enjoying a 38-28 lead by the time intermission rolled around.
"The slow start didn't help us," Urrutia said of Saturday's Mid-Valley League opener. Surprisingly, though, the Grizzlies made a late game charge against West Valley. Sparked by senior Cody Heckert, who connected on three 3-pointers while popping in 13 of his team high 17 points, Sunnyside outscored the Rams 24-16 in the final period.
Urrutia switched to a small line-up in that final quarter, which accounted for the Grizzlies closing the gap against West Valley to just eight points. "They did a heckuva job for us down the stretch," Urrutia said.
The biggest thorn in Sunnyside's side Saturday was Brian Swift, who dumped in a game high 25 points and also had a game high nine rebounds. The only other Ram to score in double figures was Drew Cavanaugh, who chipped in 12 points.
Friday, the Grizzlies couldn't overcome the four Grandview players who combined for 67 of the team's 72 points. Chris Mejia paved the way for the Greyhounds, scorching the net for 27 points. James Vela added a 17-point effort for the 'Hounds, with teammates Anthony Andrews and Adam Dion adding 13 and 10 points, respectively.
Reid Schilperoort and Jake Thomas were Sunnyside's top scorers against Grandview. Schilperoort had 12 points and Thomas added 10. The Grizzlies' two big men also shared team high rebounding honors with seven apiece.
One glaring stat that jumps off the score sheets from this past weekend's games is Sunnyside's attempts from behind the 3-point arc. Against Grandview, the Grizzlies only hit 4-of-23 long range shots. Coupled with Sunnyside's 6-for-19 effort Saturday night, the Grizzlies were only successful on 23 percent of their shots from treyland.
On the positive side, Sunnyside protected the ball much better this past weekend that it did in in its two season openers the previous week. The Grizzlies only coughed the ball up 14 times against Grandview and committed just 11 turnovers against West Valley.
"That was a lot better," said Urrutia. "We cut our turnovers down from the previous week to about half."
Sunnyside, too, shot extremely well from the free throw line against West Valley, making 14-of-17 attempts compared to the Rams' 9-for-16 effort. Those numbers were reversed the previous night against Grandview, as the 'Hounds outscored Sunnyside from the charity stripe by a 24 to 10 margin.
"It was obvious that one of Grandview's game plans was to attack the basket," said Urrutia. "And they attacked it very well. It got our kids in foul trouble," he added, explaining that Schilperoort and Eric Crimp both fouled out and two other Grizzlies ended up with four fouls apiece.
Grandview 15 23 8 26 -72
Sunnyside 14 14 15 13 -56
FG-G'view 22/41, Sside 21/49. 3-pt. FG-G'view 4/9, S'side 4/23. FT-G'view 24/32, S'side 10/17. Rbd.-G'view 23 (Dion 8), S'side 24 (R. Schilperoort 7, Thomas 7). TO-G'view 10, S'side 14.
Sunnyside-Cantu 3, Zammaron 9, Marquez 4, Simmons 2, L. Schilperoort 2, Crimp 5, R. Schilperoort 12, Thomas 10, Pacheco 3, Duran 6.
Grandview-Mejia 27, Dion 10, Andrews 13, Vela 17.
West Valley 18 16 14 16 -64
Sunnyside 10 8 14 24 -56
FG-W. Valley 26/56, S'side 18/53. 3-pt. FG-W. Valley 3/9, S'side 6/19 (Heckert 3). FT-W. Valley 9/16, S'side 14/17. Rbd.-W. Valley 40 (Swift 9, Wager 7), S'side 33 (R. Schilperoort 6, Thomas 6). TO-W. Valley 9, S'side 11.
Sunnyside-Cantu 2, Zammaron 4, Marquez 0, Simmons 3, Heckert 17, L. Schilperoort 0, Crimp 6, R. Schilperoort 10, Thomas 6, Pacheco 3, Duran 5.
W. Valley-Cavanaugh 12, Swift 25.