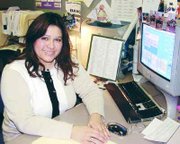 Rosie Kranz claims she has always liked working with children. It's a good thing because since becoming the Sunnyside High School counseling office secretary, Kranz is seeing more than 1,000 kids a day.
"It's always busy in here, " she grinned.
The pace doesn't seem to bother Kranz as she directs students to the offices of the school's various counselors.
In addition to giving directions and fielding calls for the counselors, Kranz helps students look up their grades and schedules. She also handles the registration of new students and student withdrawals from high school.
"It is especially busy when students are looking for copies of their grades for scholarship and college applications," she added.
Before stepping into the counseling office position, Kranz worked as a para-educator for a year in the high school's English as a second language (ESL) classes under the direction of Graciela Bravo-Black.
"I enjoyed working with the ESL kids," she admitted, although working in an office is her preference.
"I found the ESL students to be sweet and very respectful. They were committed to learning the language," she said.
Before going to work at the high school, Kranz took time out to be a stay-at-home mom for 10 years.
However, she did operate an at-home business for a time. She sold "Creative Memories" products to supplement the family income. Always interested in scrapbooking, the Creative Memories business allowed Kranz to enjoy her hobby while helping her family, she explained.
These days, however, she doesn't have much time to keep up with her scrapbooking projects.
She and her husband, Ted, have three children, who currently attend fourth, second and first grades in the Sunnyside School District.
"I enjoyed the time I spent at home with my children," she said.
"But I'm happy with my current work day, which allows me time to be with my children, as well as do the office work I love," she smiled.
"Besides, I work with a great bunch of people," she added.