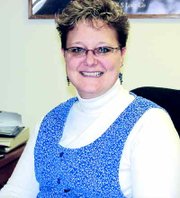 After two years of organizing and promoting Sunnyside Chamber of Commerce community events, Kathy Corliss is planning to take some time to stay at home. But the retiring Sunnyside Chamber of Commerce director of tourism and promotions has no plans to be idle.
Corliss is planning to venture into the world of e-book editing and publishing. She said a Georgia writer has contacted her about becoming his editor and as Corliss said, "...it's an offer I couldn't refuse."
Friday, Dec. 17, is her last day on the Chamber payroll. While she is sad to leave the friends she has made in the Sunnyside business community, Corliss said the work of the Chamber will never be far from her heart.
"I fully support the efforts of the Chamber and will continue to support it," she said.
Corliss said working as the organizer for the Chamber's community activities has been rewarding.
"My favorite job has been promoting such events as the Lighted Farm Implement Parade," she said.
Corliss said the 16th annual event held this past Dec. 4 attracted more than 25,000 people to the community.
"This year's event included family oriented events throughout the day, from the breakfast with Santa to caroling on the downtown Sunnyside streets prior to the parade," Corliss said.
"It just keeps getting bigger," she said.
"I think next year's event will have even more activities planned to encourage people to make a day of it," she predicted.
The Chamber board is already talking of making the event bigger next year, she said.
Corliss said the growth of the 3-on-3 basketball tournament participation has doubled since its implementation two years ago.
"Of course, the annual Cinco de Mayo festival is spectacular every year. I think the Chamber is hoping to broaden its attendance base in the coming year," she added.
Corliss, who lives in Prosser, believes the Chamber board will continue to provide more Chamber member outreach, such as the Chamber business after-hours events.
"It's been rewarding to be involved with the Chamber. I continue to firmly believe in the Chamber's mission," she added.