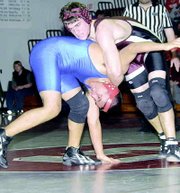 GRANDVIEW - Grandview High School wrestling coach Jeff Sevigny is not a happy camper. Sevigny said he was disappointed with the way his team performed last night in a non-league loss to 3A Prosser, dropping the meet 45-27.
Sevigny felt his team would have done better coming off an emotional, hard-fought victory over Connell in last Thursday's league meet.
"We wrestled real flat," said Sevigny. "We had no intensity last night."
Sevigny added that he felt his team was looking ahead to Thursday's league meet at Othello.
"I think they came in (last night) thinking it didn't matter and they wrestled like it," said Sevigny.
Grandview opened the night in an immediate hole, giving up forfeits at 103 and 112 lbs.
In the match of the night, Grandview freshman Fernando Godinez rallied from a 10-3 first period deficit to beat Prosser's Casey Brode 18-16 in overtime. Godinez got a takedown about six seconds into overtime to get the win. Sevigny said Godinez wore out Brode after making several mistakes to start the match.
Sevigny said he would have liked to have seen his team take advantage of the lack of mat time Prosser had. Going into last night's meet against Grandview, the Mustangs had only wrestled at one tournament.
Kaelan Nelson gave one of Prosser's better wrestlers, Johnny Hurtado, all he wanted at 125 lbs., despite losing 13-3. Nelson gave up nine points in the third period.
"Kaelan looked pretty tough," said Sevigny.
Grandview's Matt Saldana and Max Saldana picked up forfeit victories at 130 and 135 lbs., respectively.
At 140 lbs., Grandview's Shay Seimears had an off night, losing 11-3 to Randol Milson.
"Shay made some really bad mistakes," said Sevigny.
Grandview sophomore Rene Montelongo gave Prosser 's Josh Solis a run for his money in his first ever match before losing by pin in 3:40 at 145 lbs.
"Rene had a good fight," said Sevigny.
At 152 lbs., Prosser's Tony McCorkindale won a 15-4 decision over Jesus Benitez.
Grandview's Jacob Robillard lost a heartbreaker to Prosser's Anthony Cruz, 5-4. Robillard let Cruz go in the third period to try and get the takedown to win the match. Robillard wasn't able to get the takedown until right after the buzzer went off, ending the match.
Tovias Magana gave Prosser's Ivan Merino fits in their 171 lb. match before losing by pin in 5:08.
At 189 lbs., Grandview's Rigo Rodriguez beat Matt Garcia by pin in 5:52.
"Rigo controlled that match right from the beginning," said Sevigny.
Prosser's Chris Shepherd pinned Heleodoro Lopez in 3:49 in the 215-lb. match.
The night ended with Grandview heavyweight Andrew Morales winning by forfeit.