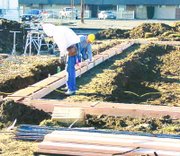 For the past year Dyke Dickie of Physical Therapy Services has been thinking about expanding his business and moving into a larger office. And this past November, with the issuance of a building permit from the City of Sunnyside, Dickie is beginning to see his dream turn into reality.
The crew from MJB Construction is currently busy putting together forms for the building's foundation. Dickie said he hopes to be able to move into the new office by the end of April.
Dickie, who has been at his current location at 812 Miller Ave. since 1986, said the new office will give him a chance to not only increase his floor space, but also to increase staffing and expand the programs he is able to offer. He added that his new location at 841 E. Lincoln Ave. will also include an outside rehabilitation area.
Dickie said he estimates the outside rehabilitation area will encompass about 9,000 square feet and will include such things as a half-court basketball area.
"The facility will be different than any other in Washington state I've seen," Dickie said.
The exterior of the building won't be the only interesting facet of the facility. The interior will also be different than the office where Dickie is currently housed. He said the office space, which will be nearly double the square footage he and his staff are used to, will have more of an open concept. Dickie said it will be a lot less like a typical medical office.
Dickie said the initial design for the new office space was completed about a year ago, adding that the East Lincoln Avenue property was purchased about six months later. He said the area where the new office is being built consists of two lots and more than 26,000 square feet of space.
Dickie said the size of the property wasn't the only thing that attracted him to the lot. He added that the Lincoln Avenue location was also important, because it will give the new facility good visibility.
The building permit issued for the new Physical Therapy Services office was one of 29 building permits issued by the Sunnyside Building Division during the month of November. Last month, the city's building division conducted 236 inspections and collected $7,444 in permit fees for projects with a total valuation of more than $51,996. The 53 permits issued by the city include 29 building, four mechanical and five plumbing permits. There were also five sewer connection fees, four water connection fees, four water meter permits and two public works permits for curb, gutter and sidewalk work.