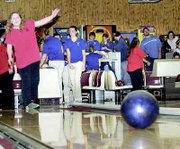 The Sunnyside High School girls bowling team turned in one of its flattest performances of the season yesterday. It resulted in a cakewalk for the Selah Vikings.
Bowling at Sunnyside's Valley Lanes, Selah registered a 4-0 sweep behind the Jennerjohn sisters. The duo posted two-game series of 357 and 345.
None of the Lady Grizzlies topped the two-game 300 mark.
The Vikings won the first two games handily by scores of 775-633 and 742-578. In the two Baker games, where each member of the five-girl squads alternate taking turns throughout the 10 frames, Selah prevailed 159-112 and 217-122.
Thursday's defeat was Sunnyside's seventh of the season in eight outings. In the league points race, the Lady Grizzlies are just 3-29.
Sunnyside's best effort yesterday came from junior Katie Weets. She opened with a 170, which proved to be the fourth best individual score on the day between the two clubs. Weets tossed a 128 in the second game, which gave her a team high 298 series.
Also bowling for Sunnyside were senior Desiree Pritchett with a 264 series (145-119), junior Megan Saunders with a 246 series (118-128), sophomore Kayla Coder with a 206 series (104-102) and junior Maribel Rodriguez with a 197 series (96-101).
The older Jennerjohn sister, senior Stefhanni, had the top two-game mark for Selah on games of 163-194. The younger sibling, sophomore Whitney, shot games of 172-173.
Sunnyside takes a break from action over the holidays. The Lady Grizzlies' next opponent will be the Davis Pirates on Tuesday, Jan. 4, at Valley Lanes.