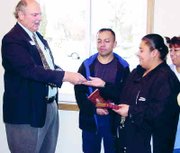 GRANGER - Newest Granger resident Alicia Vasquez received the greatest Christmas gift she's ever had Sunday afternoon as she accepted the keys to her new home.
Vasquez, 28, and her sons, Florencio, 12, and Hector, 5, are the newest residents in a Habitat for Humanity home located at 308 Fifth Street in Granger.
Following a blessing ceremony Sunday afternoon, Vasquez and her sons began moving into the three-bedroom home. The Vasquez home is the fifth Habitat for Humanity home to be built in Granger.
Vasquez began looking into becoming a Habitat recipient in the fall of 2003. After being accepted she went through a series of five homeowner classes and put in hundreds of hours working on her new home, according to Michael Nixon, executive director for the Habitat for Humanity program in the Yakima Valley.
Until Sunday, Vasquez and her sons had been living with her mother-in-law in Toppenish.
"I wanted to move in sooner, but it was the only day we could move," said Vasquez, who started her sons in the Granger School District at the start of the school year, anticipating the day they would be able to move.
As part of her work hours, Vasquez dug, spread gravel and painted, among other duties.
Although difficult moving so close to Christmas, Vasquez said the experience and moving into her own home has been worth the hardships.
One thing she is looking forward to is the peace moving into her own house will provide since her sons will now each have their own room.
"They've never had rooms of their own," she said.
After settling in, she said the first thing she wants to do is sit down with her sons and watch a movie in their new home.
Those qualifying for Habitat for Humanity homes must have an income of between 25 and 50 percent of the median income for Yakima County, according to Nixon. For a family of four that income would be between $13,000 and $25,000.
"Our families are considered by the government as low, low income," said Nixon. "We build three to six bedroom homes to fit the size of the family."
The homes are purchased directly from Habitat for what it costs to build the structure. Payments, including utilities and insurance, are no more than 30 percent of the home income.
Nixon said that many different kinds of groups from churches to service clubs can sponsor a home. Ferndale Grain sponsored the Vasquez house.
Over the past 19 years, Habitat for Humanity has put $7.5 million worth of property onto the tax rolls. Before building Vasquez's house and her next door neighbors home, the property they now sit on were vacant lots belonging to the city of Granger.
Besides being presented with the keys to her new home, Vasquez was also given a new Habitat for Humanity ornament for her Christmas tree and a Bible.
Vasquez thanked family and friends who helped her build her new home, and said, "It feels really good knowing something is yours.