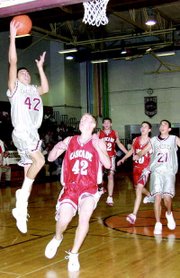 GRANDVIEW - When a team can hold another team to just two points in seven minutes, things are going rather well.
This was the case for the Grandview High School boys basketball team this past Saturday night at home against Cascade.
The Greyhounds put on a nearly flawless display of basketball skills, as they defeated the Kodiaks 65-38.
"I was pretty pleased," said Grandview Coach Scott Parrish. "We got off to a good start. I think our half-court defense was really good off the bat."
The Greyhounds simply smothered anything the Kodiaks tried to do. Paced by Brad Copeland, in his first varsity start, and Cordero Cisneros, Grandview went on a 17-0 run to start the game. It wasn't until the final minute of the first quarter that the Kodiaks finally snuck one past a stingy Greyhound defense.
Copeland scored several of his 13 points in the opening minutes of the game. Cisneros was dominating under the defensive glass for the Greyhounds.
Grandview outscored Cascade 22-2 in the first quarter and 16-7 in the second period.
Parrish said his Greyhounds did a nice job in the first half of contesting everything the Kodiaks tried to run. He was also pleased with the way Grandview was pounding the ball inside.
Parrish was also pleased with the efforts of James Vela at the guard spot. Vela had 10 points, seven rebounds, six assists and two steals on the night. Parrish said Vela did a nice job of getting everyone on the team involved in the game.
Parrish went to his bench for much of the game, picking up some solid minutes from Frankie Medina.
Grandview also had a nice outing from Adam Dion, who had 13 points and four rebounds. Dion hit 4-of-5 free throws.
The Greyhounds outscored Cascade 21 to 4 at the free throw line, sinking 21-of-37 shots. The Kodiaks were a mere 4-of-9 from the free throw line.
Grandview also had a huge game on the defensive glass, recording 27 defensive rebounds. The Greyhounds had 37 rebounds for the game.
The Greyhounds (0-0, 5-0) are off until after Christmas when Grandview will take part in a Christmas basketball tournament at the SunDome. Grandview plays Chewelah at 7:30 p.m. on Wednesday, Dec. 29. The following night at 9 p.m., the Greyhounds will face Selah.
Michael Kantman/Daily Sun News