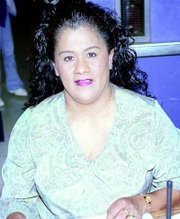 MABTON - Cooking for nearly 1,000 children and attending their sporting events is a full-time job for Mabton's Sandra DeRobles.
For the past six years, DeRobles as worked in the Mabton School District kitchens, preparing breakfast and lunch for the students.
When not behind the lunch counter, DeRobles can be seen helping Mabton Junior High School coaches at girls volleyball, basketball and softball practices and games.
If being at the school five days a week wasn't enough, the energetic Mabton native also volunteers her time to attend all of the high school sporting events. One of her favorite jobs is collecting admission fees at the gate and double checking student IDs.
"Sports is a big deal in Mabton. Everybody comes to the games," she said. "And I like getting to see everyone."
While some people might be tempted to leave their small hometown in the dust following graduation, DeRobles quickly found that Mabton is exactly where she wants to be.
"I love it here. I love working at the school and I especially like being around the kids," she said.
A 1981 Mabton High School graduate, DeRobles has spent her entire life in Mabton, choosing to work and raise her two children in the close knit community.
However, not all of DeRobles' work experience has been related to schools.
"I worked in Grandview at Star Foods for a time. I also worked at Mabton Mini Mart," she said.
Before going to work in the school kitchen, DeRobles also helped manage the Mabton Youth Center, where she became active in coaching youth sports teams.
"I went to work for the district six years ago," she recalled. She started in the Artz-Fox Elementary School kitchen.
When the Mabton School District completed the remodeling of the high school, a new kitchen and lunchroom was added.
So DeRobles decided to transfer to the high school. "It's nice to be here, especially since my kids both attend school here," she smiled.
In addition to serving meals to the students and staff, DeRobles dedicates her spare time to helping coach the junior high girls volleyball team each fall, as well as the girls junior high softball team each spring.
A former standout Mabton athlete herself, she is currently assisting the junior high school girls basketball coach.
"The girls work really hard," she added. "They are a great group of kids."
DeRobles said being around the children all day is invigorating.
She also coached AAU girls sports for four years.
"I love being involved with the kids. I guess I still just love being at school," she grinned.