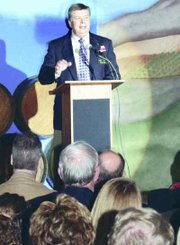 GRANDVIEW - When Grandview Mayor Mike Bren was first appointed to serve as mayor in 1998, he didn't anticipate keeping that title for long.
"I thought it was time [to resign] after the first year," Bren said Monday night, following his announcement that he plans on resigning from his city council position, effective Dec. 31.
Bren, who was appointed mayor when then-mayor Jesse Palacios resigned to run for county commissioner, said the thing that has kept him leading Grandview for so long has been the different economic development activities in which the city has been involved. He noted that he didn't want to leave the position with such important projects ongoing, such as the massive refurbishment of Wine Country Road and the construction of the Wal-Mart distribution center.
"Those were neat projects to be involved in," Bren said. "I didn't want to leave until they were done deals."
Bren said resigning from his position as mayor will give him time to do other things that are important to him. He added that he isn't sure yet what he's going to do with his free Monday nights.
Bren announced his resignation during Monday night's Grandview City Council meeting.
"Now's the time," Bren said. "It's amazing how many things we have accomplished as a council, as a city in the past six years."
Bren remembered back to his first ribbon cutting as mayor, noting that it was for the "new" Safeway on the corner of Elm Street and Wine Country Road.
"We've cut a lot of ribbons in the last six years," Bren said.
Over the past six years the community of Grandview has seen a lot of changes, from the growth of the Lower Valley campus of Yakima Valley Community College to the coming of the Wal-Mart distribution center to the improvement of many major roads and intersections.
"I was appointed in 1991...it's been kind of a trip since then," Bren said.
He told his fellow council members that over the past few years the city has really started to get things moving in the right direction.
"Grandview does so many things right...I challenge you folks to continue in that direction," he said.
Bren said he is going to miss a lot of things about his position as mayor, everything from representing the community at different functions to serving as a sounding board for Grandview residents.
"I will miss you guys, the things that come with being mayor, the Monday night meetings," Bren said.
Councilman Rick McLean took a moment during last night's meeting to thank Bren for his service to the community, adding that he is also looking forward to working under newly appointed Mayor Norm Childress.
Bren suggested Childress be appointed to the position following his resignation announcement. Childress has served as mayor pro-tem since 2003.
"I think Mike had done an excellent job," Childress said following Monday night's meeting. "I know I have big shoes to fill."
Childress, who has served on council for 12 years, said he will spend the next few weeks working with city staff to make sure he has a smooth transition into the position of mayor. Childress will serve as mayor for the next city council meeting set to take place Jan. 3.
City Administrator Jim Sewell said during the first meeting in January council members will decide what steps to take to fill the vacant city council position created as a result of Bren's resignation.