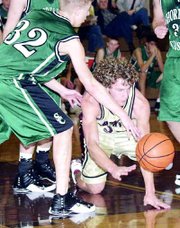 After stumbling in the league opener this past Saturday against Riverside Christian, Sunnyside Christian High School boys basketball coach Dean Wagenaar was wondering if his team learned anything from the experience.
Obviously, the senior laden Knights squad learned their lesson. Sunnyside Christian bounced back with a win over Lyle this past Saturday afternoon and thumped Shoreline Christian yesterday (Monday).
There was nothing too special in the game plan for Wagenaar on Monday afternoon, as the Knights simply found the hoop in their 79-44 victory over Shoreline Christian.
The win moved the Knights' record to 6-1 on the season (1-1 in league). Sunnyside Christian hosted Mt. Vernon Christian this afternoon (Tuesday).
Monday's win over Shoreline Christian moved Wagenaar to within one-game of tying former Sunnyside Christian Coach Bob Rip's all-time winning record of 206 games in 12 years. Wagenaar stood at 205 victories entering this afternoon's game against Mt. Vernon Christian. Wagenaar, who is beginning his 11th season as varsity coach of the Knights, stands to break Rip's record during a Jan. 4 home game against Bickleton, if the Knights won today against Mt. Vernon Christian.
"I told him (Rip) this past summer I really didn't want to do it," joked Wagenaar in regards to setting the new coaching record at Sunnyside Christian for most wins.
Turning back to Monday's game, Wagenaar said the Knights looked solid from all angles. Shoreline Christian came out to start the game in a 1-1-3 zone defense, which the Knights had few problems countering.
"We dissected that pattern pretty effectively," said Wagenaar.
Sunnyside Christian was basically able to shoot at will. The Knights were an outstanding 10-for-18 from 3-point range, which was pretty much the deciding factor in the game.
"We were just shooting the lights out," said Wagenaar.
Wagenaar said his Knights were able to find every open spot on the court. Sunnyside Christian also did an effective job of cutting to the basket during the game.
Shoreline Christian couldn't handle the Knights' defensive pressure. Wagenaar had his team employ a man-to-man defense the entire game.
"The kids played well," said Wagenaar. "We hustled. We got the speed of the game going."
The Knights started the game with opening quarters of 22 and 23 points. Sunnyside Christian's defense held the Crusaders to 22 points in the first half.
Sunnyside Christian received an all-around solid team effort Monday with three players in double digits in the scoring column. Chad Den Boer led the Knights with 21 points, 18 of which came in the first half. Teammate Jordan Haak added 16 points and Andrew Schutt finished with 11.
Wagenaar said it is difficult for him to believe as a coach that his team, after playing with so little enthusiasm this past Friday night against Riverside Christian, could come back with impressive outings in the last two games.
"I hope we learned something out of it," said Wagenaar.
. 1 2 3 4 T
Shoreline 11 11 12 10 44
SCHS 22 23 21 13 79
Scoring: SCHS-Chad Den Boer 21, Jordan Haak 16, Andrew Schutt 11, Sean Tudor 8, Aaron Van de Graaf 7, Matt Haak 7, John Bosma 5, Nick De Jong 2, Derek Van de Graaf 2.
Shoreline-Grant Brandal 19.
Rebounds: Andrew Schutt 7, Jordan Haak 5, Derek Van de Graaf 4.
Assists: Jordan Haak 5, Derek Van de Graaf 3.