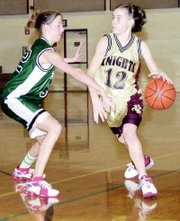 Up until the fourth quarter of yesterday afternoon's game between Shoreline Christian and Sunnyside Christian, the victory was for the taking.
As it turned out, the host Lady Knights stepped up big in the final period and put an exclamation point on what had already been a solidly played game on their part. The Sunnysiders outscored Shoreline Christian by a 19-8 margin in the fourth quarter to post what proved to be a blowout of sorts, a 56-36 win.
For Sunnyside Christian (1-1, 3-4), Monday's non-league victory represents more than just another win. It gives the team its first two-game winning streak of the year, after opening the season with a 1-4 record.
"We played much better," said SCHS Coach Al Smeenk, who picked up the 399th coaching victory of his career yesterday. All 399 of those wins have come at Sunnyside Christian. This is Smeenk's 23rd year coaching the Lady Knights.
Smeenk said he was pleased with his team's rebounding efforts yesterday. With Carly DeGroot and Tyssyna Van Wingerden each snaring 10 rebounds, the Lady Knights enjoyed a 43 to 29 advantage on the boards over a much taller Shoreline Christian squad. The long-time Sunnyside Christian coach also was pleased with how his players protected the ball.
"We took care of the ball well," he said, noting that his girls cut their turnovers down from 12 in the first half to only four after intermission. "That's excellent improvement," he said.
Smeenk, too, was satisfied in seeing his club step up in the fourth quarter to end any suspense as to the outcome. Behind Tori Van Wingerden's two 3-point buckets and a trey from Carly DeGroot, the Lady Knights buried the visiting Crusaders by a 19-8 margin down the stretch.
"Those were big baskets," he said of the three shots from treyland.
The younger Van Wingerden ended up scoring all 8 of her points in that final stanza.
Through the first three quarters, it was the older Van Wingerden who took the leadership role. She finished with a game high 26 points, which coupled with her 10 rebounds gave her a double-double for the game.
Sunnyside Christian also received a solid performance from its point guard, Emily Hernandez, who not only protected the ball well and directed the offensive traffic for the Lady Knights, but popped in 12 points, as well.
The Sunnyside team was looking to make it three straight wins, as well as give Smeenk his 400th coaching victory, in a 1 p.m. match-up today (Tuesday) against visiting Mt. Vernon Christian. Results were not available before the Daily Sun News went to press today.
. Bob Story can be contacted at
(509) 837-4500, or e-mail him
at bstory@eaglenewspapers.com
Shoreline Christian 6 13 9 8 -36
Sunnyside Christian 14 12 11 19 -56
Shoreline Christian-Colleen Woods 14.
Sunnyside Christian-Ja. Roberts 0, To. Van Wingerden 8, DeGroot 5, Rice 1, Ty. Van Wingerden 26, Jo. Roberts 2, Hernandez 12, den Hoed 2, Mensonides 0.