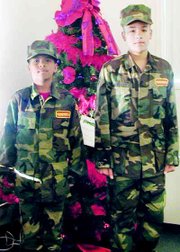 Some may think of the Young Marines program as a military recruitment tool. But that is not the case, said John Haeg.
Haeg is the commander of the Tri-Cities Young Marine Corps. The Tri-Cities group held its graduation this past Saturday of its most recent recruits, which included three young men from Sunnyside-Ramiro Lopez, Danny Perales and Mark Cuellar Jr.
The Young Marines program has been in existence nationally since 1957, said Haeg. It was 10 years ago that Haeg, at the request of a couple Marines, started the Tri-Cities Young Marines program.
"It (the Young Marines program) is basically developing our youth for tomorrow," said Haeg. "It is giving them a step up in life."
Haeg said the program is designed to teach youth valuable skills, such as leadership and how to lead a healthy lifestyle, making wise choices. The program does stress the guiding force of the Marines Corps, which is to have love for God, country, family and the Corps.
The graduating class this past Saturday had 17 recruits. They spent nearly three months learning such valuable skills as camping, field skills, propelling and ways to build a team atmosphere. To graduate, Young Marines have to pass physical fitness and written tests. The written test consists of material recruits have learned in the classroom, such as the customs and courtesy of the Marines.
Once the recruits graduate they become privates and continue on with the Young Marines program. The Young Marines program meets at the Army Reserve Center in Pasco.
Haeg himself is a Marine, having served on active duty for 10 years. He is currently a lieutenant with the patrol squad on the Hanford Nuclear Reservation in the Tri-Cities.
The U.S. Marine Corps is one of the biggest sponsors of the Young Marines program, providing the youth program with funding. Haeg said the funding from the Marines helps sponsor some of the programs that go on throughout the year.
One of the trips the Tri-Cities Young Marines was able to go on was to Pendleton this past summer to hear the president's Marine Corps band.
Haeg said there are no set criteria for youth entering the program.
"The majority of the kids in the program are good kids," said Haeg.
The Young Marines program is open to youth ages 8 to 18. Haeg said the program even serves handicap children. Participants entering the program pay a $10 fee, which covers the cost of purchasing insurance for each recruit. Haeg said the most expensive cost with the program is purchasing the uniforms.
Perales, 12, is the son of Lizette Perales of Sunnyside. He is a sixth grade student at Chief Kamiakin Elementary School.
Perales said he enjoyed the basic training portion of the Young Marines program. Perales, who scored the highest of any graduating recruit this past Saturday in the physical fitness test, scoring 375 points out of 500, said he enjoyed learning about the Marines and taking part in the physical fitness training.
"(Entering the program), I thought there would be talking and yelling and they would run you all day," smiled Perales.
But the Young Marines wasn't quite the picture Perales had painted. He said that he enjoyed boot camp, and especially liked doing the fire watch, which is a patrol.
Perales, who suffers from hearing loss, is very interested in music, said his mom. She said that he would eventually like to play in the Marine Corps band.
Being involved with the Young Marines has helped Perales out in his personal life. Perales said he was getting bad grades in school before entering the program and now he is doing better at school.
"I think he is more structured now," said his mom. "I am proud of him."
Lopez, 11, is the son of Jennifer Vidaurri of Sunnyside. He is a sixth grade student at Chief Kamiakin Elementary School.
Lopez's mother said she heard about the Young Marines program from her uncle, Joe Vidaurri, who is in the Army Reserves.
"I told a couple of friends about it," said Vidaurri.
Vidaurri said she decided to have her son try the Young Marines program because he has been interested in being in the Army since he was 4.
"I thought it would be good discipline for him," said Vidaurri.
Lopez said he enjoyed basic training a lot, such as running and the watch duty. Lopez did say he was excited about joining the Young Marines, despite there being "lots of yelling and everything." He added that it was a little different for him during basic training, having to go to bed at 10 p.m. and wake up at 4 a.m. to begin the day.
Lopez said the program has also helped him out personally.
"I behave better and listen more," said Lopez.
Vidaurri said it has been a different experience for her as a parent. She said when he first went to boot camp he would come back home saying things like yes sir and yes maam.
"I am not used to that," smiled Vidaurri. "He opens doors now. He is polite. He has changed a little, not much, but he is improving. I am very proud of him."
Vidaurri said he is happy to have graduated.
"I like now that I am a private because I can boss all the recruits," said Lopez.
Lopez said he would encourage others his age to try the Young Marines program.
"They will probably like it," said Lopez. "If they are not used to yelling then they won't (like it)."
Recruit sessions are usually only held once a year, in the fall, said Haeg. But he and his staff are willing to consider anyone who wants to enter the program now. Anyone who wants more information on the Young Marines program can contact Haeg through his e-mail address at ph9334@charter.net.
Haeg said the Young Marines program is good for youth to be involved in.
"We are trying to help our youth," said Haeg. "After all, they are our leaders of tomorrow. I really feel if we can give them a step up, we are going to be paid back many, many fold."
.