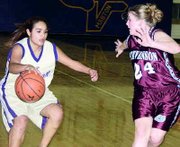 MABTON - Up by 11 before Stevenson even netted a basket, the Lady Vikings took their lead and built on it, continuing their winning streak with a 69-30 victory over the 2A Lady Bulldogs.
I think our pressure got to them," said Mabton Coach Mike Roettger. "Half court wise we were denying them the ball and full court we didn't reach and get into foul trouble."
The Lady Vikings were able to shut down Stevenson early in the game, only giving up 4 points in the first quarter. Mabton scored 22.
Shooting 14-for-22 from the free throw line, Roettger said the girls started off on the right foot hitting, 7-of-9 in the first quarter. As the game continued, he said, more shots were missed.
Mabton continued its domination on the court, scoring 17 to Stevenson's 9 in the second quarter and 19 in the third quarter, as the Lady Bulldogs struggled to keep control of the ball.
Leading the Stevenson scoring was Amy Collins with 9 points.
"She was one of their bigger girls," said Roettger.
"That's what helped us. They were big, but we were quicker," he said, adding that Stevenson's game the night before, noting the fatigue factor, also contributed to the Lady Bulldogs' overwhelming loss.
Across the board, Roettger was pleased with his girls' performance.
"We had about five or six girls who stood out, but every kid did a great job and showed up to play," he said.
He said that scoring across the board was pretty even with three Mabton players scoring double digits and another one point away from it.
"We have a balanced team," said Roettger. "It's not just one girl, it's a team effort."
.
Stevenson 4 9 9 8 -30
Mabton 22 17 19 11 -69
FT-Stevenson 4/16, Mabton 14/22. 3-pt. FG-Mabton 2/5.
Stevenson- Amy Collins 9. Mabton-Alida Mendoza 13, Patty Mendoza 14, Josie Chase 4, Talisa Sotelo 0, Diana Lopez 9, Erica Sanchez 12, Michelle Tellez 5, Anna Montelongo 3, Regina Palomarez 7, Victoria Tellez 0.